v

486

Ruler

Information
Type
Accessory
Body Slot
Accessory Slot
Quality

Tier 1 (Blue)

Tooltip
Creates a grid on screen for block placement
Purchase From
Goblin Tinkerer
Purchase Value
1  
Sell Value
20  
Crafting
This item cannot be crafted.
The
Ruler
is an accessory that can be purchased from the
Goblin Tinker
, provided he is released after defeating the
Goblin Army
.
This item is equipped in one of a players' five accessory slots, and creates a non-solid, white grid on the screen, in measurements of 1x1 blocks, meaning that players can easily calculate the width and height, as well as areas, of buildings/structures, etc. It offers no bonuses to the player, aside from altering their display quite drastically.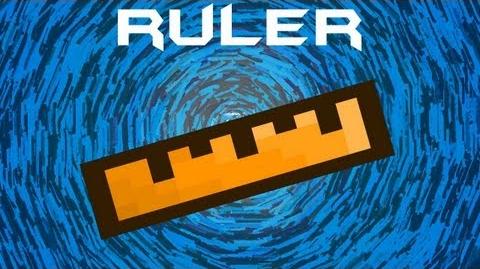 Notes
It is recommended to only use it during construction, or at times when it might otherwise be useful, as the grid will heavily obstruct your vision.
When the F11 hotkey is used to remove the HUD, the ruler's grid is removed as well.
It can be useful for locating Mimics underground, often they will be a few pixels off the grid.
It can be used to help you fire gun shots between blocks due to it's grid format.
With a Harp (or Magical Harp), you can use it to play tunes more easily
Update Info