v

142

Santa Claus

Information
Type
NPC
Sub Type
Town
HP
250
Defense
15
Function
Clothing Seller
Santa Claus is an NPC added in the 1.1.1 update obtained after completing the Frost Legion event triggered by a Snow Globe. Santa Claus is only available during Dec. 15 - 31st each year, as stated by Re-Logic in the release notes. As of the 1st of January every year, Santa Claus will no longer be available until the next Christmas period. Existing Santa NPCs will either despawn or die, indicated by a 'Santa was slain' message. However, if you set your computer time to a time between Dec. 15-31st, he will respawn.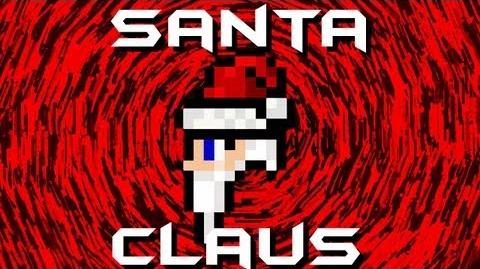 Mobile Edition
He will spawn automatically after installing the new Christmas update. You don't need defeat to defeat the frost legion because there isn't hard mode yet. He sells the same things in PC edition and Console edition.
Requirements
After completing the Frost Legion Santa Claus will arrive if there is a house which meets the standard NPC requirements (Light, table, chair etc.) and does NOT need rescuing/unbinding from the world.
Sells
Quotes
What? You thought I wasn't real?
Care to bake me some cookies?
Ho ho ho, and a bottle of... Egg Nog!
Notes
Santa Claus is the only town-based NPC who doesn't receive a randomly generated name.
Technically, Santa Claus can be called a Named NPC. This is because his NPC flag (When placed in a player's house) has the caption: "Santa Claus the Santa Claus." By some, this could be considered a bug.
Santa Claus increases the drop rate of gifts in a radius of 50 blocks.
On the IOS version, if you updated your game to the christmas update, he will spawn no matter what.
He can be spawned by setting your computer's clock to December.
Update Info
Spawning and Dying bug fixed.
Bugs
v1.1.1 - Santa Claus is scripted to spawn even outside of the holiday season, but he will immediately die.
Gallery