v

1571

Scourge of the Corruptor

   
Information
Type
Weapon
Sub-Type
Thrown Weapon
Damage?
57
Use Time
19 (Very Fast)
Knockback
5 (Average)
Max Stack
1
Continuous Attack
Yes
Quality
Tooltip
A powerful javelin that unleashes tiny eaters
Found In
Corruption Chests
Sell Value
4  

Crafting
This item cannot be crafted.
The Scourge of the Corruptor is a powerful javelin that, upon impact of an enemy or solid block, unleashes Little Eaters who target unfriendly NPCs. This item will always be found inside locked Corruption Chests in the Dungeon. The initial projectile will pass through walls one block thick when fired from a certain distance and angles. The Eaters produced can also 'spawn' on the other side of a one block wall if fired directly into a corner, or sometimes through a wall beside or above the user. This can be handy when fighting mobs from within a home area, or simply hiding in a small box during certain events, such as a Pirate Invasion or Solar Eclipse. Equipment that modifies speed greatly increases the amount of Little Eaters unleashed while using this weapon, when used in abundance. The Little Eaters are also affected by imbuing potions such as Flask of Gold.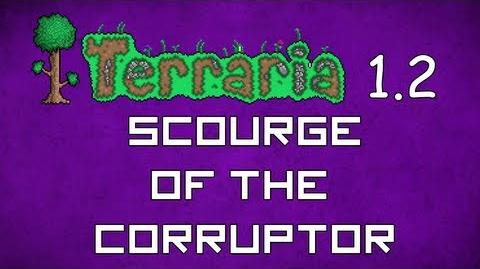 Notes
Bugs
The throwing speed is not affected by attack speed but the throwing sound is.
On the Mobile Version of Terraria, when the Scorge is thrown, the tip of the javelin is slightly displaced from the handle of the weapon.
Sometimes the Little Eaters pass through blocks.
Update Info
Gallery