A Shadow Orb is a floating sphere that can sometimes be found below chasms in small empty spaces confined by Ebonstone. Shadow Orbs can be destroyed with hammers or Dynamite, which causes a random item drop and sometimes an event.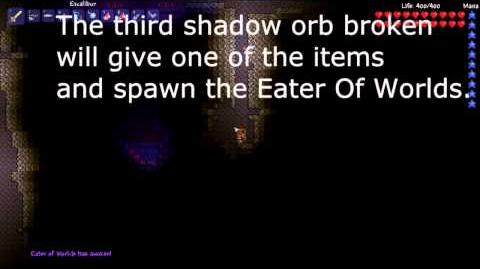 Upon destroying a Shadow Orb, one of the following messages will be displayed in the bottom-left corner of the screen:
"A horrible chill goes down your spine..." (First orb broken)
"Screams echo around you..." (Second orb broken)
"Eater of Worlds has awoken!" (Third orb broken - 100% Chance after each third Orb), which means the Eater of Worlds has now spawned and will begin attacking the player momentarily.
"A Meteorite has landed!" (50% chance of spawning the Night after the orb has been destroyed.)
"A Goblin army is approaching from the east/west!" (Has a chance of occurring when you have met the other conditions of a goblin army attack
Possible drops
Edit
There are three strategies used for getting past the Ebonstone to the Shadow Orb, although it is possible for no Ebonstone to block the way:
Dynamite or bombs can be used to destroy the surrounding Ebonstone effectively. Though this is an expensive method, it is generally the first one to become available to players. It generally takes 2 to 3 sticks of Dynamite to get to the Shadow Orb.
If you have a Dryad, you can purchase Purification Powder, which turns Ebonstone blocks into ordinary Stone blocks, allowing you to mine through it and get to the Shadow Orb.
If you have a Nightmare Pickaxe or better, you can simply mine the Ebonstone that surrounds the Orb. Using the Nightmare Pickaxe, it takes four hits to destroy one block. Using the Molten Pickaxe, it only takes two hits.
Update Info
Edit
Fixed bug where Shadow Orbs could break on world creation.