v

3052

Shadowflame Bow

Information
Type
Weapon
Damage?
47

Velocity (?)

11
Inflicts
Shadowflame
Use Time
20 (Very Fast)
Knockback
4.5 (Average)
Continuous Attack
Yes
Critical Strike Chance
+3%
Highest Prefix

?

Unreal
Quality
Tooltip
Shoots Shadowflame Arrows
Dropped By
Goblin Summoner
Drop Rate
16.67% (1:6)
Sell Value
2  

Crafting
This item cannot be crafted.
The Shadowflame Bow is a Bow that replaces all arrows with Shadowflame Arrows, which can pierce up to three enemies and inflict the Shadowflame debuff. It is dropped by the Goblin Summoner during the Goblin Invasion in Hardmode. Unlike most bows, this one can shoot arrows in a direct path without the arrow projectile falling at all making this an accurate bow if you are trying to hit a slow moving target.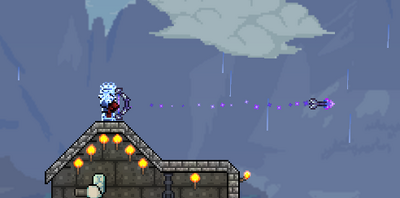 Update Info