This item is found only in the mobile version(s) of Terraria.
v

 

Shiny Black Slab

Information
Type
Item
Sub-Type
Summon
Quality
Summons
Pet Android
Found In
Chest
Sell Value
No Value

Crafting
This item cannot be crafted.
The Shiny Black Slab is found in chests in the Android version of Terraria. Not found in the iOS version. When used, it summons the Pet Android, which is the mascot of the Android operating system. Note that it is extremely rare.
Trivia
The Shiny Black Slab appears to be a cell phone akin to the devices that would run the android operating system that the Pet Android represents.
Update Info

vrelease
Gallery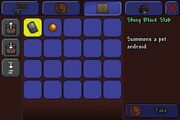 Ad blocker interference detected!
Wikia is a free-to-use site that makes money from advertising. We have a modified experience for viewers using ad blockers

Wikia is not accessible if you've made further modifications. Remove the custom ad blocker rule(s) and the page will load as expected.