The
Shiny Red Balloon
is an
accessory
that increases the player's jump height by 2/3, from 6 blocks (12 feet) to 10 blocks (20 feet). The Shiny Red Balloon is found in
chests
in copper, silver and gold buildings on
Floating Islands
. It can be sold for 54 silver coins. This item utilizes its maximum potential when used in conjunction with
Cloud in a Bottle
, and vice-versa, since the second jump is affected by the item as well, increasing the double jump height of Cloud in a Bottle from 3.5 blocks (7 feet) to 7 blocks (14 feet), for a total of 35 blocks (70 feet) of jump height. It is used in the crafting of
Cloud in a Balloon
,
Sandstorm in a Balloon
,
Honey Balloon
, and
Blizzard in a Balloon
.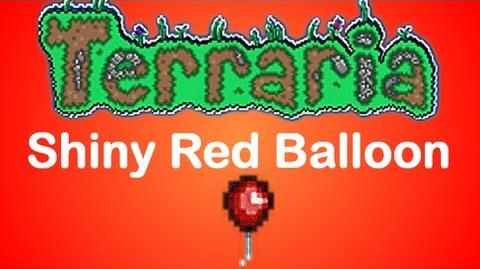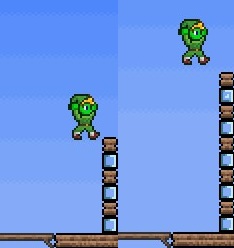 When used in conjunction with Cloud in a Bottle and Rocket Boots, it is possible to elevate to a sufficient enough height to kill yourself when you fall if you have not found a certain number of Heart Crystals (Damage taken is 149 with no Armor). It would be wise (if this combination of items is used) to either carry a Lucky Horseshoe or a Grappling Hook to be able to negate fall damage. It is also worth noting that the Shiny Red Balloon decreases jump height in water by one block (2 feet).
Update Info