v

534

Shotgun

   
Information
Type
Weapon
Sub-Type
Ranged Weapon
Damage?
18
Use Time
44 (Very Slow)
Knockback
6.5 (Strong)
Quality
Tooltip
Fires a spread of bullets
Purchase From
Arms Dealer

Purchase During
(Hard Mode)
Purchase Value
25  
Sell Value
5  

Crafting
This item cannot be crafted.
Material In
Onyx Blaster
The Shotgun is a weapon that can be purchased from the Arms Dealer. It fires 3-5 pellets for each bullet, consuming only 1 bullet (a lot like the Clockwork Assault Rifle). The delay between each shot is approximately one second. Its spread pattern is randomized for every shot fired, resulting in the pellets never hitting the same spot twice.
Notes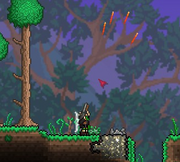 Update Info
Buy and sell price reduced.