v

534

Shotgun

   
Information
Type
Weapon
Sub-Type
Ranged Weapon
Damage?
18
Use Time
44 (Very Slow)
Knockback
6.5 (Strong)
Quality
Tooltip
Fires a spread of bullets
Purchase From
Arms Dealer

Purchase During
(Hard Mode)
Purchase Value
25  
Sell Value
5  

Crafting
This item cannot be crafted.
The Shotgun is a gun that can be purchased from the Arms Dealer. It fires 4 pellets for each bullet, consuming only 1 bullet (a lot like the Clockwork Assault Rifle). The delay between each shot is approximately one second. Its spread pattern is randomized for every shot fired, resulting in the pellets never hitting the same spot twice.
It is particularly effective when fighting bosses, large enemies or close-quarters combat with multiple enemies, such as during a Blood Moon or a Goblin Invasion, but due to its low rate of fire and low accuracy at medium range, it will seem almost completely useless against flying or teleporting enemies (e.g. Bats & Chaos Elementals). Crystal Bullets can double the Shotgun's overall effectiveness, as they emit multiple additional shards upon hitting a surface or enemy. Using Chlorophyte Bullets can prove even more effective at taking down small targets, as the targeting bullets all impact the enemy at the same time, dealing massive damage.
Special ammunition should generally always be used for the Shotgun, since normal bullets will render it nearly useless against all Hardmode enemies, except if used at point blank range. The only exception is the Meteor Shot as only one pellet will hit the enemy.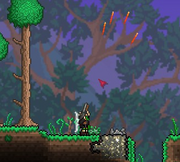 Update Info