v

3367

Shrimpy Truffle

Information
Type
Mount
Quality
Tooltip
Attracts a legendary creature which flourishes in water and combat
Found In
Treasure Bag
Dropped By
Duke Fishron in Expert Mode
Drop Rate
100%
Sell Value
5  

Crafting
This item cannot be crafted.
The Shrimpy Truffle is a drop from the Duke Fishron Treasure Bag that drops on Expert Mode. Equipping and using this will summon a Cute Fishron Mount which will hover and fly infinitely and will obtain a speed boost once it touches water. A good strategy is to put bubbles with water purchased by the Party Girl NPC to get a massive speed boost in the air without having to dive in to water pools.
Notes
The Fishron Mount will also gain the speed bonus if you touch honey or lava.
The speed boost is also gained if the player riding it has half health or less.
When you get the liquid boost, the Fishron Mount's eyes will glow, and they glow with whatever color the water is in that biome. (eg. Pink in Hallow)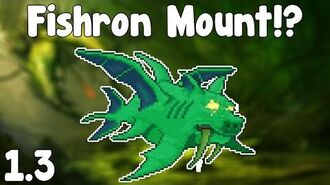 Update Info
Ad blocker interference detected!
Wikia is a free-to-use site that makes money from advertising. We have a modified experience for viewers using ad blockers

Wikia is not accessible if you've made further modifications. Remove the custom ad blocker rule(s) and the page will load as expected.