v

2176

Shroomite Digging Claw

Information
Type
Tool
Sub-Type
Pickaxe / Drill
Axe / Chainsaw
Tile Range Boost
-1
Damage?
45
Axe Power
125%
Pickaxe Power
200%
Use Time
4 (Insanely Fast)
Knockback
6 (Average)
Quality
Sell Value
1  
The Shroomite Digging Claw is a mining tool that can mine all ores and blocks except Lihzahrd Bricks. It also can dig at an extremely fast speed, faster than the Picksaw.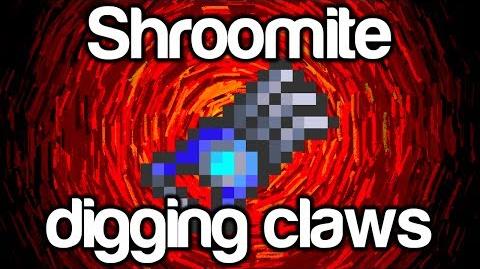 Notes
The Shroomite Digging Claw is one of very few mining tools that has -1 in range.
This Tool pairs extremely well with Mining Armor and the Smart Cursor.
To reach maximum digging speed with this tool, a light prefix, Mining Armor, a stone accessory(Celestial Stone, Moon Stone or Sun Stone) together with Mining Potion are needed. Bear in mind that melee speed does not affect mining speed.
Update Info