Silver Bullets
are a type of
ammo
that can be fired by any
Gun
that fires
Musket Balls
. Silver Bullets inflict the same amount of damage as
Meteor Shot
at the cost of not piercing enemies or ricocheting off of walls. Unlike Meteor Shot, Silver Bullets have a small amount of knockback.
They can be found in Chests anywhere or pots in the Underworld or Jungle. The Arms Dealer will sell them on Blood Moons until the Wall of Flesh is defeated, after which he will always have them available.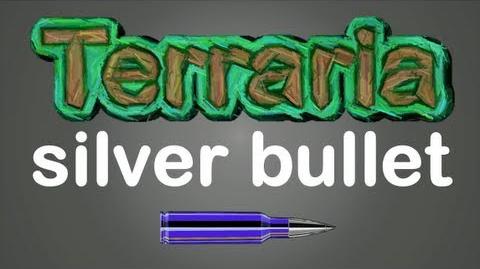 The fact that Silver Bullets are sold during a Blood Moon may be reference to the concept that Silver Bullets ward off evil. For example, silver bullets are associated with combating werewolves.
Despite the myth, Silver Bullets don't do extra damage to Werewolves.
Silver Bullets are the only non-basic kind of bullet that cannot be crafted, despite silver being long since in the game.
Update Info
Edit
Rarity value decreased from Tier 1 to Tier 0.