v

278

Silver Bullet

Information
Type
Ammo
Sub-Type
Bullet
Damage?
9
Knockback
3 (Very Weak)
Max Stack
999
Quality
Found In
Chests and Pots
Purchase From
Arms Dealer
Purchase During
(Blood Moon)
or (Hard Mode)
Purchase Value
15  
Sell Value
3  
Silver Bullets are a type of ammo that can be fired by any Gun that fires Musket Balls. Silver Bullets inflict the same amount of damage as Meteor Shot at the cost of not piercing enemies or ricocheting off of walls. Unlike Meteor Shot, Silver Bullets have a small amount of knockback.
They can be found in Chests anywhere or pots in the Underworld or Jungle. The Arms Dealer will sell them on Blood Moons until the Wall of Flesh is defeated, after which he will always have them available.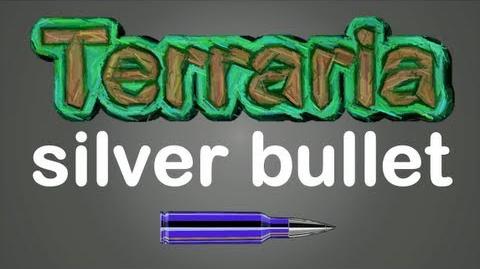 Trivia
The fact that Silver Bullets are sold during a Blood Moon may be reference to the concept that Silver Bullets ward off evil. For example, silver bullets are associated with combatting werewolves.
Despite the myth, Silver Bullets don't do extra damage to Werewolves.
Update Info
Stack size increased from 250 to 999.
Can now be crafted with 70 Musket Balls and 1 silver bar.
Rarity value decreased from Tier 1 to Tier 0.
See Also
Ammo
Arrows
 Chlorophyte Arrow
 Cursed Arrow
 Flaming Arrow
 Frostburn Arrow
 Hellfire Arrow
 Holy Arrow
 Ichor Arrow
 Jester's Arrow
 Luminite Arrow
 

Spectral Arrow

 Unholy Arrow
 Venom Arrow
 

Vulcan Bolt

 Wooden Arrow
Bullets
 Chlorophyte Bullet
 Crystal Bullet
 Cursed Bullet
 Exploding Bullet
 Golden Bullet
 High Velocity Bullet
 Ichor Bullet
 Luminite Bullet
 Meteor Shot
 Musket Ball
 Nano Bullet
 Party Bullet
 Silver Bullet
 Venom Bullet
Solutions (Clentaminator)
 Blue Solution
 Dark Blue Solution
 Green Solution
 Purple Solution
 Red Solution
Rockets
 Rocket I
 Rocket II
 Rocket III
 Rocket IV
Unique
 Candy Corn
 Coins
 Explosive Bunny
 Explosive Jack 'O Lantern
 Fallen Star
 Flare
 Gel
 Nail
 Poison Dart
 Sand Block
 Seed
 Snowball
 Stynger Bolt
 Stake