Skeletron
is a boss which only can be summoned by talking to the
Old Man
in front of a
dungeon
at night. If you choose "Curse" when talking to him, he will immediately transform into Skeletron and begin attacking you, so be prepared when this happens. If you wish to fight him again, you may summon him using the
Clothier Voodoo Doll
. This is a difficult boss; do not try to fight him unless you have lots of potions, good pre-Hardmode equipment and/or throwable objects. Prior to 1.2, Skeletron was the only boss that could only be summoned and defeated only once per world.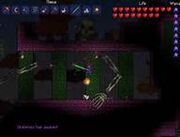 When you defeat Skeletron, you will gain access to the dungeon, and the Clothier NPC will come to your town if you have a house for him. As of the 1.2 patch, Skeletron also drops the Skeletron Trophy.
Attacks
Skeletron will attempt to hit you with his arms by swinging them at you and will spin his head every 20 seconds or so, put his arms in the air, and chase you with his head, very much like the Dungeon Guardian. He also often slams his arms together, attempting to crush you. If you take too long to kill him, and the sun comes up the next day, Skeletron will hit you for 9999 damage, killing you instantly, just like the Dungeon Guardian.
Expert Mode
In Expert Mode, Skeletron's head possesses a very high resistance to damage, to the point that any current accessible weapons will be rendered useless against the boss. To weaken his defense, players must destroy both of his hands--Each of which holds half of the skull's heightened defense and in turn when destroyed: activates half of his capability to fire magical skulls at a curved arc with high damage.
Tactics
There are a few things to keep in mind while fighting this boss with any kind of technique.
First, try to keep the fight on a nice flat surface. It makes Skeletron's attacks far easier to dodge and makes attacking him just as easy. Secondly, watch out for his hands, as they will usually hit you the most often. Lastly, always watch for when he rolls his head towards you. While attacking like this he is extremely vulnerable, and you can even do quite a bit of damage with swords, such as the Blade of Grass. Also, start your fight at the earliest possible time because you need to defeat him before daybreak.
Probably the most common method is to use Ranged Weapons. Simply spamming your shots at Skeletron's head while dodging his attacks is usually quite effective, especially if your weapon has rapid fire. Good weapons to use would be the Sandgun (if you don't mind sand getting covered all over the surrounding area), Minishark, Star Cannon (assuming you can afford the strange form of ammunition), and the Space Gun. The Molten Fury is also a good choice. Shuriken and Throwing Knives are a possible but challenging way to kill Skeletron earlier in the game.
Another technique to better conserve ammo is to use ranged weapons to attack Skeletron's hands first, and then deal with the head using swords that can hit behind you, flail weapons or weapons that return to you, like the Flamarang.
Another easy technique is to throw Spiky Balls along the floor, which will destroy Skeletron's arms fairly quickly. After its arms are destroyed, proceed as normal to destroy the head when doing so use your remaining spiky balls to make him spin his head in it dealing serious damage. This is also a useful technique for fighting the Eater of Worlds, as each segment will take damage upon passing through a Spiky Ball.
Tips
It is recommended that you do not wear Necro Armor for this fight, as it changes the sound you make when you are damaged to the same one that Skeletron makes. This can result in you not noticing when you take damage, especially if you're using the Cobalt Shield. One solution to this problem is to wear something else in the Vanity Slot, as this prevents your damage sound from changing. During the fight, if you don't have a Minishark, or another powerful weapon, it is useful to take down his arms/hands. After this, it will just be his head that you will deal with, thus making the fight easier since you will just simply jump and not be damaged.
Dungeon Guardian
If you try to go into the dungeon by going through the main entrance or by digging in without defeating Skeletron first, a Dungeon Guardian (which looks like a spinning Skeletron head) will ram into and kill you along with any other players who may be nearby. There are now several videos of people beating him. As of 1.2, upon death he will always drop a Bone Key which is used to summon the Pet Baby Skeletron Head.
The Dungeon Guardian only appears when you move in front of the dungeon's back wall below rock level, even if you placed it. Using a Depth Meter can help in finding the exact level. Destroying the back wall with a hammer will prevent the Dungeon Guardian from spawning although being hit by other dungeon mobs will usually knock you over walls you have not destroyed unless you have a Cobalt Shield equipped. One way to help destroy background tiles is to use Dynamite.
Bugs
A graphical bug appears when you fail to kill Skeletron before dawn but survive (if he flies too far off screen) and see the Old Man spawn, when you kill Skeletron, He will drop multiple headgibs, each dropping its own items.

If Skeletron spawns too far outside the dungeon, he will spawn with only a head.
Trivia
As of PC 1.1, Skeletron has a tougher, more intimidating variant known as Skeletron Prime. It has 4 arms, has a metallic look and its head is covered in spikes during it's head-spin attack.
You can get the Water Bolt before killing Skeletron. Rarely it will be found on the shelves above rock level.
Update Info
Killing Skeletron now earns the achievement "Boned"
Head's health decreased from 5,000 HP to 4,400 HP.
Head's health decreased from 6,000 HP to 5,000 HP and defense decreased from 12 to 10.
See also