Skeletron Prime
is the hard mode equivalent of
Skeletron
. It is comprised of a head and four arms, each with different HP, power, defense and attack patterns. Since Skeletron is the hardest pre-hardmode boss, Skeletron Prime is considered the hardest boss in the game. In all he has 63,000 health.
Skeletron Prime can be summoned by using a Mechanical Skull during night-time, regardless of the biome the player is in. When killed, it will drop about 20-30 Souls of Fright, a reasonable number of gold Coins and 5-15 Greater Healing Potions.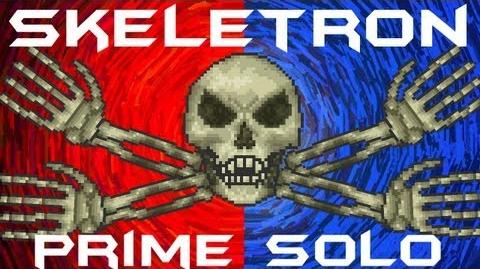 Skeletron Prime comprises five individual parts: The head and four different limbs. This makes it the most complex monster in Terraria yet. The boss won't be considered defeated until the head is killed.
Skeletron Prime
Edit
The boss's head is the main part and the one with the most HP; Its attack pattern is the same as Skeletron: it will keep its distance from the player, then start spinning and lunging at them for increased damage. However, unlike Skeletron, it grows spikes from its head when attacking, which give it a slightly larger range, so care must be taken to not get too close. Also, it takes less damage while the spikes are exposed.
Prime Laser
Edit
The Prime Laser orbits around the head, shooting a low-damage beam at the player every time it is facing them. With 6,000 HP and a low amount of defense, it is the least threatening of the boss's weapons, although it is not to be underestimated. It will sometimes lock on to the player and shoot several beams in succession, so active dodging is recommended.
Prime Cannon
Edit
The Prime Cannon is slightly more resistant than the Laser (7,000 HP) and will periodically shoot prime bombs that deal average damage to a player (about 30 per shot with a full Adamantite set). Depending on its own state and that of the other limbs, it will start replacing the single shots with volleys of 3-5 cannonballs, so it is best to keep moving, especially when the boss is directly above the player. The bombs inflict the Debuff confused and other ailments.
Note: The cannonballs only explode on contact with a solid block, and will pass straight through Wood Platforms, so standing on an aptly-built line of them will render this weapon useless. Using a form of flying (gravitation potion for example), will also allow you to avoid the cannon's balls.
Prime Vice
Edit
The Prime Vice is Skeletron Prime's main melee weapon. When near the player, it will make a lunge at them. It has 10,000 HP and greater defense than the ranged weapons, and also has a rather large hitbox, so it will likely intercept part of the bullets shot at the head.
Prime Saw
Edit
The Prime Saw is the boss's most dangerous weapon. It has 10,000 HP, the most defense of all limbs, and its attack is a lunge at the player that, when it connects, scores a rapid streak of powerful hits. As long as the Prime Saw is on the field, extra care should be taken in order to prevent getting too close, lest the player quickly lose a lot health to this attack. A Cross Necklace can be used to lessen the damage done by this weapon due to the fact that it increases the duration of invincibility after being attacked.
Pointers and Behavior
Edit
Unlike most summonable bosses, Skeletron Prime will not despawn at dawn, but like Skeletron will gain a huge defense and offense buff and will start to relentlessly chase the player (pretty much acting like the Dungeon Guardian), ultimately killing them in one blow. It is therefore better to summon him just after sunset (7:30 PM in-game)
Skeletron Prime will react to most attacks by backing away from the player, often off-screen so using fullscreen mode with a large resolution is recommended.
The Vice and Saw will briefly detach from the body whenever they attack the player: this is a good chance to score some hits at the head without the risk of the shots being blocked.
Like Skeletron, the hands' hitbox doesn't include the arms, so it is safer and simpler to just jump over them rather than completely move out of the way.
Avoid using explosives like Hellfire Arrows or Grenades; a melee attack could suddenly block the projectile and the splash damage could hurt you badly.
Each part of the boss can target a different player; This allows a team of players to split them up, causing them to spread out and become less effective.
Strategy
Edit
These are some suggestions about what stategies should be used in battle.
The safest strategy for this boss is to use the "Hellstone abuse" strategy. This strategy consists of making a platform (30-50 blocks long) made out of Hellstone , and have a Cross necklace equipped also, so when you engage in combat with Skeletron Prime, you must run around on the hellstone platform, and instead of taking damage from skeletron prime, you instead take damage from the hellstone beneath you (which is very low, you take 1 damage per hit with cobalt armor and better) instead of actually taking damage from skeletron prime. WARNING: In order for the strategy to work, you must avoid skeletron prime's chain saw arm and his head when spinning, at this time you may fly with wings/rocket boots and evade prime until his head stops spinning, and go back down onto the platform and take damage from the hellstone instead.
One strategy is to use the Hellstone Bridge, mentioned above (Cross Neckalce preferred, all jump accessories are useless [save spectre boots , for running speed] so it is recommended to replace them with other artifacts that will help [such as a Star Cloak ]), equipped with (obviously) the best armor you can get, a Megashark with 1000 bullets, of your choice (normal bullets will work, but bring a second means of attack [such as have the magic to use Crystal Storm ] as you will likely run out of ammo, near the end of the battle), a Cursed Flames /Fire Flower (or really anything that can inflict the Cursed Inferno /On Fire! debuffs), and a Magical Harp (or other piercing weapon). When the battle starts use the Cursed Flames on his four hands, until they have the Cursed Inferno debuff. Then use your Megashark on the head, ignoring the hands. When he spins, near the ground, start backing away, and switch to the Harp, to pierce through the hands, and hit the head. If you run out of ammo, switching to a Crystal Storm would be recommended, though that can be difficult with having mana as your only attack. It is recommended you have 1-3 Heart/Star statues on the battlefield, somewhere, attatched to 5-second timer(s) to replenish mana/HP or have the mana flower equipped with lots of greater mana potions. (*Note to mages: A full suit of Adamantite is better than Adamantite Leggings + Hallowed, due to the 19% magic cost reduction)
Since the battle can drag for quite a bit, it is advisable to wear the best pieces of armor available, since Skeletron Prime has a huge arsenal of attacks, it is likely that the player will take many hits during the battle, so maximizing defense should be the main priority.
Bring powerful ranged weapons; the Megashark will deal lots of damage quickly, while the Hallowed Repeater will let you exploit the buff from Archery Potion and use the special attacks of several arrows to quickly deal with all the parts.
Other than attacking the player and blocking their way, the hands will protect the head against any non-piercing weapon: Holy Arrows, Crystal Bullets and/or the Cursed Flames spell are a good way to pierce through its defenses and damage the head and arms simultaneously. A Star Cannon can deal large amounts of damage, but would require a large amount of ammunition to be a viable option. Flails are a poor choice, because the boss will always try to gain higher ground, and gravity will greatly reduce the flail's vertical range (Unless it's directly above the player).
Since Skeletron Prime tends to move back and forth relative to the player, it is best to stand ground in one place (preferably fitted with a heart/star generator) and go after the boss every time it is in range, then coming back down and waiting for it to descend again. Rocket Boots and Wings greatly aid this strategy.
Once the boss is down to one or no weapons, the head can be easily finished off with a spear or flail, since they can score several hits per use and the head's movement is predictable enough.
All of the parts can be afflicted with On Fire and Cursed Inferno debuff, so using a Flamethrower or Cursed Flames will deal continuous damage to them even when not under direct attack, though you need to kill Skeletron Prime at least once to obtain a Flamethrower since it needs Souls of Fright which are ONLY dropped by Skeletron Prime.
It is advised to defeat the boss as soon as possible due to the fact that when night ends and day starts, Skeletron Prime will use his head and kill you in a single hit, much like the regular Skeletron and the Dungeon Guardian.
If you don't want to make an arena, you could also try to fly around and shoot Skeletron, which also makes it easier to visit the nurse when necessary without risking her death. Summon Skeletron and fly around in a dodgy pattern, NEVER fly downwards (If you happen to). Take a quick heal once in a while and continue fighting the boss before the sun comes up.
Skeletron Prime has a head and hands made of metal, while its arms remain made of bone.
The name seems to be a reference to the two main characters of the series and movies Transformers: Megatron and Optimus Prime as well as Skeletor from the He-Man television series.
The head's appearance is very similar to that of the unmasked T-800 in the film The Terminator.
At dawn, Skeletron Prime gains a significant damage and defense boost. Due to the similarities between Skeletron and Dungeon Guardian, this "attack phase" was dubbed "Dungeon Guardian Prime" by players.
When killed, the upper head part looks like Skeletron's.
It is possible that when he dies, Skeletron Prime will vanish, not drop anything, and his limbs can still be attacked for a few seconds despite him being dead.
There is a chance Skeletron Prime will vanish once the player is killed. This is less likely to occur when fighting this boss with a friend, as one player can remain engaged in combat while the other rejoins. 
Update Info
Edit