Ad blocker interference detected!
Wikia is a free-to-use site that makes money from advertising. We have a modified experience for viewers using ad blockers

Wikia is not accessible if you've made further modifications. Remove the custom ad blocker rule(s) and the page will load as expected.
v

2197

Sky Mill

   
Information
Type
Furniture
Sub-Type
Crafting Station
Placeable
Yes
Max Stack
99
Quality
Tooltip
Used for special crafting
Found In
Skyware Chest
Sell Value
2  

Crafting
This item cannot be crafted.
The Sky Mill is a crafting station that allows to create more complex furnishings and fancier lighting made with Sunplate Blocks, such as Beds, Chandeliers and Bookcases.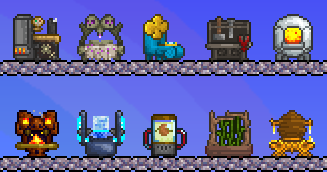 Update Info
Crafting Stations
 Adamantite Forge


 Titanium Forge

 Alchemy Station
 Bookcase
 Crimson Altar


 Demon Altar

 Furnace
 Hellforge
 Iron Anvil


 Lead Anvil

 Loom
 Mythril Anvil


 Orichalcum Anvil

 Sawmill
 Tinkerer's Workshop
Chair with Table
 Work Bench
 Imbuing Station
Single Purpose Crafting Stations
 Autohammer
 Blend-O-Matic
 Bone Welder
 Cooking Pot
 Flesh Cloning Vat
 Glass Kiln
 Heavy Work Bench
 Honey Dispenser
 Ice Machine
 Keg
 Lihzahrd Furnace
 Living Loom
 Meat Grinder
 Sky Mill
 Solidifier
 Steampunk Boiler