The Snow Biome is a type of Biome that was released in the Christmas update (1.1.1). It is completely made up of Snow Blocks, and is usually no more than some hundred blocks wide, and extends down to sea level (0 height). Throughout the year, it has a 33% chance of appearing in a generated world, but worlds created during Christmas holidays (December 15th through January 1st) will always include it.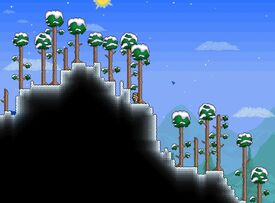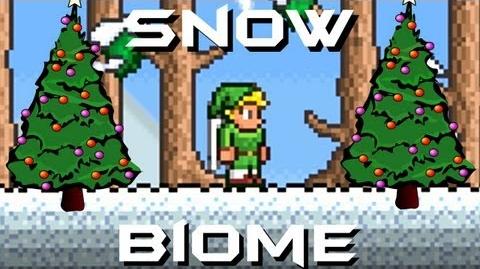 When the player is in a snowy biome, as a cosmetic effect, snowflakes will fall from the sky (even indoors or underground), also; trees generated or planted in this biome will appear covered in snow.
The Snowy Biome has no monsters tied to it; while inside it, monsters from the surrounding biomes will spawn. However, if you have a large enough snow biome, no monsters will spawn while in it. This makes the center of such a biome the safest place to build a house, and not have too much worry about defenses. However, you can still lead monsters into it. In addition, a Blood Moon will still have hordes of monsters knocking at your door.
In addition, both Corruption and Hallow seem to be incapable of moving through it, again adding to the safety of this biome.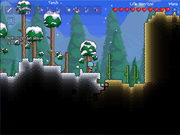 Even in worlds where this biome hasn't been generated it is possible to create it artificially by placing Snow Blocks or using a Snow Globe to summon the Frost Legion, that will leave a trail of snow during the battle.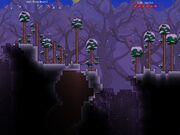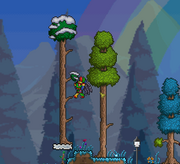 Trees grown on Snow Blocks will not yield Acorns.
Whether a tree has the "snowy" appearance or not depends solely on the type of block its acorn was planted in; an acorn planted in regular grass in a snow biome will grow in a normal tree and vice versa, an acorn planted in snow blocks in any biome will grow into a snowy tree.
Snow can spawn on top of corruption during map generation, but this doesn't seem to have any effect on the corruption itself.
The Christmas Event (Presents, Frost Legion and Santa Claus) is often confused as being tied to the Snow Biome.
Update Info
Edit