v

1319

Snowball Cannon

Information
Type
Weapon
Sub-Type
Ranged Weapon
Damage?
10
Use Time
18 (Very Fast)
Knockback
4.5 (Average)
Quality
Found In
Ice Chests
Sell Value
2  

Crafting
This item cannot be crafted.
The Snowball Cannon is a weapon released on the update 1.2 which fires Snowballs. It can be found inside Ice Chests.
While the Snow Cannon is relatively weak, it is a good weapon choice if you spawned near a Snow Biome, as its ammo is very cheap to make.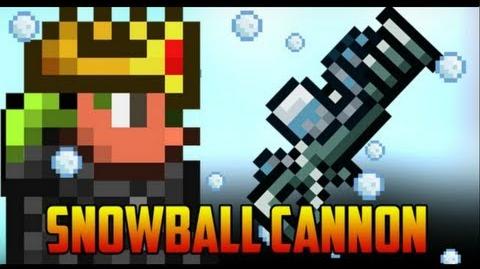 Update Info
Notes
Even though the knockback of the weapon says average, snowballs also have average knockback, which makes this weapon's knockback ridiculous for its speed, which often proves to be very useful.
Ad blocker interference detected!
Wikia is a free-to-use site that makes money from advertising. We have a modified experience for viewers using ad blockers

Wikia is not accessible if you've made further modifications. Remove the custom ad blocker rule(s) and the page will load as expected.