v

951

Snowball Launcher

   
Information
Type
Weapon
Sub-Type
Ranged Weapon
Damage?
16
Use Time
14 (Very Fast)
Knockback
4.5 (Average)
Max Stack
99
Quality
Tooltip
Rapidly launches snowballs
Dropped By
Snow Flinx
Drop Rate
0.67%
Sell Value
1  

Crafting
This item cannot be crafted.
The Snowball Launcher is a special type of ranged weapon which can only be fired while placed on the ground. It uses Snowballs as ammo.
After it has been placed, it can only be fired in one direction until it is picked up and placed again.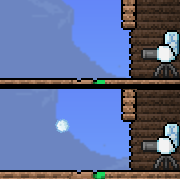 Tips
It's best to use it as crowd control against large waves of enemies (Such as Goblin Armies or during a Blood Moon).
It is, however, not recommended to use during hardmode due to it's relatively low damage against hardmode enemies.
Update Info
Ad blocker interference detected!
Wikia is a free-to-use site that makes money from advertising. We have a modified experience for viewers using ad blockers

Wikia is not accessible if you've made further modifications. Remove the custom ad blocker rule(s) and the page will load as expected.