The Solar Pillar is one of the four pillars that spawns after defeating the Lunatic Cultist. It will regularly erupt destructible fireballs from the top which can do high damage.
The shield around the Solar Pillar will be lowered after 100 enemies that is summoned by the Solar Pillar are killed near the pillar, allowing the player to damage and destroy the pillar. Exiting the game will reset this count.
The Enemies that the Solar Pillar summons is: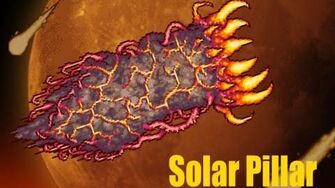 See Also
Update Info
Ad blocker interference detected!
Wikia is a free-to-use site that makes money from advertising. We have a modified experience for viewers using ad blockers

Wikia is not accessible if you've made further modifications. Remove the custom ad blocker rule(s) and the page will load as expected.