This item is found only in the console version(s) of Terraria.
v

 

Soul of Blight

Information
Type
Item
Sub-Type
Soul
Max Stack
999
Quality
Tooltip
The essence of infected creatures.
Dropped By
Ocram
Drop Rate
100%
5-16
15-24
Sell Value
2  
Souls of Blight are souls dropped by Ocram that are used to craft several endgame items.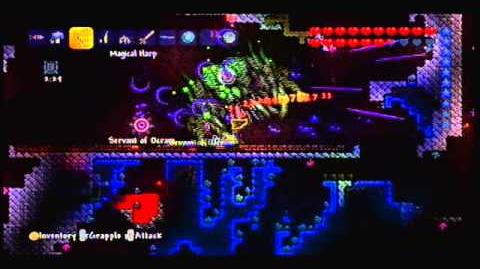 Uses
These are used to create:
It takes 205 total souls (7-14 Ocram fights) to craft all the above items.
Notes
This is the only mobile and console version exclusive soul, as all the other 6 souls come on all versions.
Trivia
Blight means: "Something that impairs growth, withers hopes and ambitions, or impedes progress and prosperity."
This is the only soul to be affected by gravity, but this trait is only present on Mobile. They will float properly on the Console versions.
Update info
Now floats and glows like all other souls, More are dropped by Ocram.