The
Space Gun
is a magic weapon which is similar to the
laser rifle
in a way with a high rate of fire that inflicts 17
damage
and uses 8
mana
. However, when used with a full set of
Meteor Armor
, the space gun will use no mana, and will deal 19
damage
. The Space Gun shoots lasers which emits green
Light
, alike to
Glowsticks
, but of a richer, deeper color.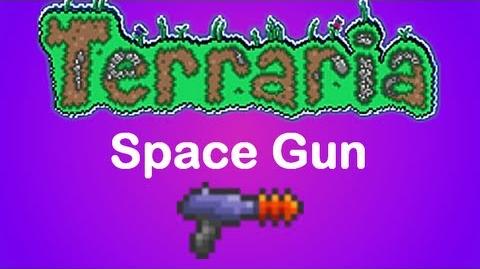 The laser will pass through two mobs and then dissipate if it hits a third, making it possible to kill three enemies at once with one shot.

Hitting three zombies with the space gun.

Another unique property of the Space Gun is that it makes a distinctive noise when striking a solid block. This can in theory be used to locate Floating Islands by firing into the sky and listening for an impact. However, as the noise is diminished over distance this is ineffective if the island is over around 100 blocks away, as it becomes inaudible.
A bug in 1.1 caused the Space Gun to cost 0 money to reforge at the Goblin Tinkerer, even though it is listed as 1 copper. In the 1.1.1 version, the Space Gun gained a value to reforge.
Contrary to popular belief, the Space Gun is fully automatic.
Recently several players have reported a bug where they still have to use mana to fire the space gun while wearing a full set of meteor armor.
Bug on Console version of game where you sometimes cannot craft this.

If you drop all the materials and pick them back up, it should fix this problem, and you are able to craft it. But remember: Stars disappear during the day when dropped
Update Info
Edit
Fixed the bug which allows the player reforge the Space Gun for free.