v

405

Spectre Boots

Information
Type
Accessory
Body Slot
Accessory Slot
Quality
Tooltip
Allows flight
The wearer can run super fast
Sell Value
2  
The Spectre Boots is an accessory which combines the abilities of the Rocket Boots and Hermes Boots, giving the player the ability to fly for a short period of time and run faster.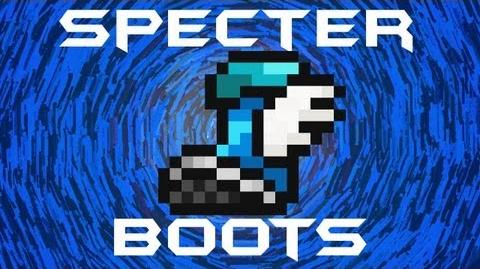 Notes
Unlike the Rocket Boots, the Spectre Boots do not generate light when used. Instead, the particle effects they use when the player is flying are similar to those emitted when the player is running at top speed.
Like Rocket Boots and Hermes Boots, the Spectre Boots also visibly alter a player's sprite.
Sometimes in the mobile version, the spectre boots will not appear in the crafting menus.
When combined with the Climbing Claws, Shoe Spikes, or Master Ninja Gear, straight walls can be climbed infinitely.
Jump Height Comparison