The Spectre Boots give you the ability to both fly for a short period of time and run faster, without the need for both aforementioned accessories being equipped.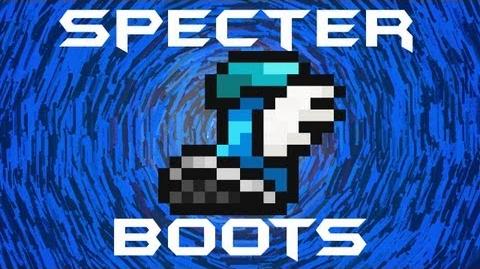 Unlike Rocket Boots, however, the Spectre Boots do not generate light when used, and are also similar to the particle effects of Hermes Boots.
When worn with Demon Wings or Angel Wings, it does not require a second jump to activate, and gives you the ability to fly 229 feet at one time (from ocean level) which is a far greater amount than the 97 feet with the wings alone. Not only do the wings add the advantages of height being greater, but, flying for a certain distance to the left or right of you (whichever way you want to go) counts towards the run up until the speed of running increases, or, in other words the hermes boots part of the item will activate. (Example: If you were standing in one spot and started flying but travelling left across the map. By the time your wings duration has run out, when you touch back down on the ground, on a flat surface with no obstructions - your speed of running will have increased as if you've already been running to gain the hermes boot's boost.)
Notes and Trivia
Edit
Like Rocket Boots and Hermes Boots, the Spectre Boots do not visibly alter a player's sprite.
Reforging this accessory will only grant one bonus, in order to use the two abilities plus two reforges, a player must wear both the Rocket Boots and the Hermes Boots.