Spelunker Potion
Comments

88
2,950pages on
this wiki
The
Spelunker Potion
gives a slight purple glow to all nearby ore,
chests
,
pots
,
Crystal Hearts
,
gemstones
, and alchemical plants (such as
Blinkroot
and
Daybloom
). When you take the potion, you receive a "Spelunker" buff that has a duration of 5 minutes.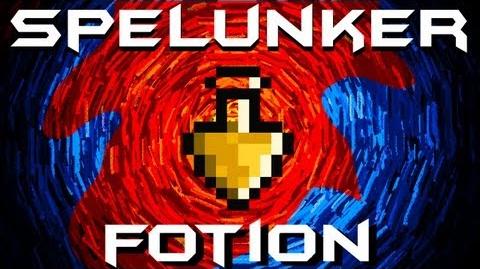 This potion is most useful when you use it with full screen and a high resolution. This way, it shows many more ores than it would otherwise be showing in windowed mode. This is more useful in jungle or corruption biomes, as they have more ores than others. However, many ores look the same, so make sure you aren't actually looking at worthless Copper Ore, instead of rare Adamantite Ore, or even worse, Palladium ore, which is almost identical to copper anyway. As of 1.2, it's easy enough to get around this simply by opening up the map and mousing over the ores, which are now recorded by the map. Hellstone is the only ore that is unaffected by Spelunker Potions, this is probably because Hellstone is always close to lava and is self-illuminated. Very useful in the Underground Jungle, after hard-mode to mine Chlorophyte.
Notes
Since 1.2, any ores you find using the Spelunker Potion will be recorded and labeled on the map, meaning that it is not necessary to immediately collect them.
An easy way to distinguish Adamantite ore from copper ore is the Adamantite's more violet appearance, as opposed to the copper being more of a red.
It is recommended to use a Spelunker Potion and fly/grapple along the roof of the underworld to find any of the 3 hardmode ores, especially Adamantite Ore, because they can be found in abundance at that depth.
The Spelunker Potion is arguably the most expensive potion, due to the non-renewable Gold Ore that it requires.
It also appears to highlight Bound NPCs.
Update Info
Gallery