The Spider Staff is a weapon crafted with Spider Fangs dropped by the Black Recluse.
Notes
This is similiar to the Pygmy Staff as it summons a minion.
The default limit to number of spiders at once is only one, but each piece of Spider Armor grants one additional minion.
The summoned spiders will run and jump to get to enemies, which is normally not very effective unless walls are placed.
The summoned spiders will climb on the walls, giving these minions much more potential.
The Spiders are able to give Venom Debuff against enemies.
Although it has a relatively low base damage, it is actually very effective in early Hardmode, due to the Venom debuff and its ability to cling to enemies for continuous damage.
Its clinging ability also makes it effective against some pre-Hardmode bosses (like the Eye of Cthulhu) and even some powerful Hardmode enemies (especially the Unicorn, Icy Merman, and Giant Tortoise/Ice Tortoise).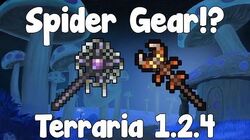 Update Info
It now costs 10 mana to use.
Ad blocker interference detected!
Wikia is a free-to-use site that makes money from advertising. We have a modified experience for viewers using ad blockers

Wikia is not accessible if you've made further modifications. Remove the custom ad blocker rule(s) and the page will load as expected.