v

1296

Staff of Earth

   
Information
Type
Weapon
Sub-Type
Spell
Damage?
73

Velocity (?)

11
Mana Cost
15
Use Time
40 (Very Slow)
Knockback
7.5 (Very Strong)
Quality
Tooltip
Summons a powerful boulder
Dropped By
Golem
Drop Rate
12.5% (1:8)
Sell Value
10  

Crafting
This item cannot be crafted.
The Staff of Earth is an item dropped by the Golem and creates a boulder which is flung in the direction of the cursor when used. Gravity affects the boulder, and it will bounce off edges. Upon the boulder's movement stopping, it will despawn.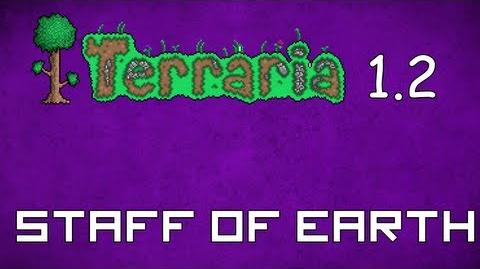 Notes
The faster the boulder moves, the higher its damage will be. Throwing it from above is a method to guarantee a high damage.
The best possible prefix for this weapon is "Mythical."
Bugs
The boulder quite often seems to glitch into the ground when bouncing off indenting corners.
Update Info