v

Star Cloak

532
Information
Type
Accessory
Body Slot
Accessory Slot
Dropped By
Mimics
Drop Rate
14.29%
Base Damage
30 (When summoned stars hit Monsters)
Rarity

Tier 4 (Red)

Tooltip
Causes stars to fall when injured
Sell Value
2  
Crafting
This item cannot be crafted.
The Star Cloak is an accessory found as a common drop from the Mimic. When worn, the cloak causes three stars to fall from the sky (similar to the stars the Starfury summons) when the player takes damage. It works underground. The stars won't pass through solid blocks below you when spawned. The stars do, however, travel through solid blocks above you, excluding hellstone, before reaching the level at which you took damage. At this point, they will then collide with blocks and disappear. The Star Cloak will not activate when taking damage from drowning. It does not consume mana, so if used alongside strong armor, the Cobalt Shield, the Obsidian Shield, and/or the Cross Necklace, it could potentionally be used as a Starfury with infinite mana. The effectiveness of this can, however, be discussed. It is otherwise a great tool for large groups of enemies, or segmented enemies.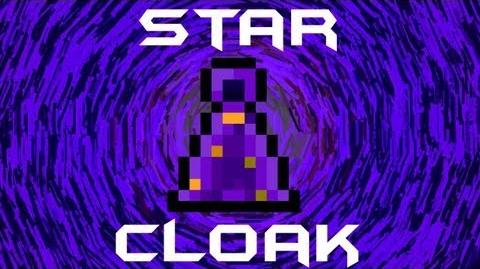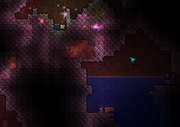 There is a trick that can be done with the Star Cloak and a block of Sand/Silt, commonly referred to as illumination. Put a block of sand above your head with the Star Cloak on, and when it falls on you, stars will fall all around as you take damage. They give off light, so if you wait until you take 4 or 5 bits of damage from the sand, lots of the ground below you will become lit up. An example is in the picture to the right.
Another trick, similar to the one above, is used to kill enemies. Find a spot below them, and drop some sand or silt above you. The stars will fall and hit any enemies above you.
It is a very rare bug, but the Star Cloak can appear in Floating Islands chests.
Update Info
Edit