v

Starfury

65
Information
Type
Weapon
Sub-Type
Broadsword

Damage (?)

16
Use Time
24 (Fast)
Knockback
5 (Average)
Continuous Attack
Yes
Mana Cost
16
Rarity

Tier 1 (Blue)

Tooltip
Forged with the fury of heaven
Found In
Floating Island Chests
Sell Value
1  
Crafting
This item cannot be crafted.
The
Starfury
is a magical
sword
that, when swung, will send 3 pinkish-red stars down from the sky.
The damage caused by the falling stars combined with the damage of the sword itself adds up to a maximum of 60 damage per hit. It uses 16 mana per swing. It is one of the only area effect weapons in the game.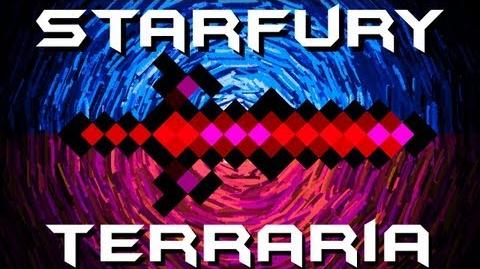 The Starfury is very useful for defeating large hordes of enemies, thus making it useful during Blood Moons or Goblin Invasions. It is useful to use this sword in conjunction with Meteor Armor or Jungle Armor to account for its mana cost.
In 1.0.5, the stars did not penetrate blocks of any kind and as such, this weapon was severely limited when underground. As of update 1.0.6, stars will hit enemies in caves. The stars will go through walls until they hit an enemy or a material after passing through an open space. You cannot swing Starfury without mana.
Notes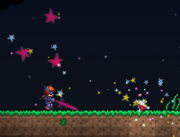 The stars can be mildly controlled, as they will roughly pass through where the mouse is when you click. Therefore, you can aim higher or lower, which can be useful if you're trying to hit things over a wall. They also move from your back to your front in a downward angle. (However, you cannot use this to aim, as you will automatically turn in the direction that the pointer is from your character, even if you were facing the other way.)
These stars emit light while in the air, or before hitting a wall or floor.
It's recommended to have another sword along with the Starfury, so you aren't left without a close range weapon when you run out of mana.