v

3099

Stopwatch

Information
Type
Accessory
Body Slot
Accessory Slot/Inventory
Quality
Tooltip
Displays how fast the player is moving
Purchase From
Travelling Merchant
Purchase Value
5  
Sell Value
1  

Crafting
This item cannot be crafted.
Material In
Goblin Tech
The Stopwatch is an accessory that works while in the player's inventory. It displays on the right side of the screen the player's movement speed in mph.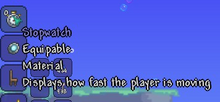 Update Info