v

292

Tactical Skeleton

Stats
Type
Monster
Sub Type
Undead Enemy
HP
400
Attack
60
Defense
28
Spawn Time
(Hard Mode)
(Anytime)
Spawn Area
Dungeon
Drops
10  

?

100%
SWAT Helmet
6.67%
Tactical Shotgun
6.67%
The Tactical Skeleton is a rare monster found in the Dungeon only during Hard Mode after Plantera has been defeated at least once. It shoots from a distance using a shotgun and has a chance to drop the SWAT Helmet and the Tactical Shotgun.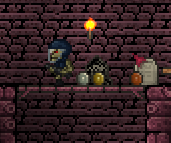 Update Info
Ad blocker interference detected!
Wikia is a free-to-use site that makes money from advertising. We have a modified experience for viewers using ad blockers

Wikia is not accessible if you've made further modifications. Remove the custom ad blocker rule(s) and the page will load as expected.