This article is in need of cleanup, and may not live up to the quality standards of the Terraria Wiki. You can help by

editing it

, or by bringing concerns of an immediate nature to the

Administrator's Noticeboard

.
v

1263

Teleporter

Information
Type
Furniture
Sub-Type
Mechanism
Placeable
Yes
Max Stack
99
Purchase From
Steampunker
Purchase Value
2  50  
Sell Value
50  
Crafting
This item cannot be crafted.
The Teleporter allows for instant transmission between two Teleporter pads linked with Wire. Due to how Wires function there is a maximum distance limit of 1995 blocks, or 3990 feet, (as of the 1.2.1.2 patch) between Teleporter pads.
By attaching wire to each side, Teleporters can be chained together to provide long distance transportation. Using the alternate coloured Wires, a single Teleporter pad can be connected up to six other pads.
If more than two Teleporters are connected with a single wire, only two will activate; see the section below for more details.
Teleporters provide a blinking light source, somewhat dimmer than a Torch, alternating from off to illuminated at one second intervals.
Teleporters can only be purchased from the Steampunker but  willfunction normally if taken to other pre-hard mode worlds.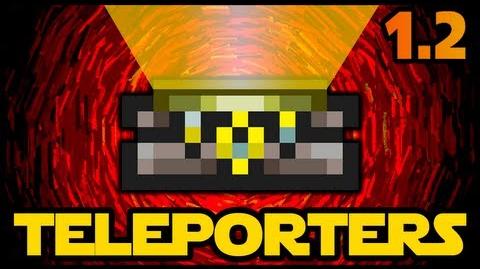 Multiple pads on a single network
When a wire network is activated with more than two teleports, the following algorithm determines which pair will activate.
Start at the trigger mechanism which caused the wire to activate.
Explore the network one square at a time, moving to an adjacent unexplored wire if one is available, backtracking otherwise (in other words, perform a depth first search).
When there is a choice of adjacent wires to explore, move left as the first choice, then right, then up, then down.
Keep track of the order in which the teleporters on the network are first encountered (in other words, order them by preorder).
The first and last teleporter in this order will activate, and the rest will do nothing.
This algorithm is deterministic, so a fixed wiring layout will always activate the same teleporters.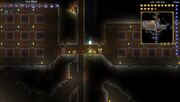 Notes
If monsters (for example, Bats) are near you when you teleport, they can sometimes be teleported with you.
Bugs
Teleporting while grappled to a surface will not cause your grappling hook to detach, and its arm will extend to where you teleport to, where it will draw you back to the original teleporter.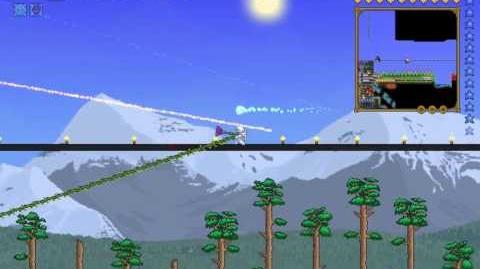 Update Info
Wire's range extended to 3990 feet
Will not work in Lihzahrd Temple