On December 10th, 2015, Terraria was released on Nintendo 3DS, and is available for $19.99 from the eShop. The 3DS Version appears to be about 1.2, or mostly the same as other console versions. Multiplayer is not yet available online, and is currently only available via local connection. In order to play multiplayer on the 3DS, each user must have their own console and their own copy of Terraria.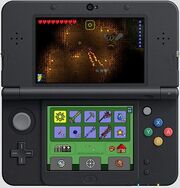 Ad blocker interference detected!
Wikia is a free-to-use site that makes money from advertising. We have a modified experience for viewers using ad blockers

Wikia is not accessible if you've made further modifications. Remove the custom ad blocker rule(s) and the page will load as expected.