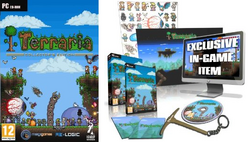 The following information was taken from a thread created by Terraria developer Redigit. The thread can be found here. It should be noted that the Collector's Edition is not DRM-free by any means - the disc contains a Steam key and a hard backup of the game.
The game can be found online in the following Amazon marketplaces:
Physical Copy
The physical copy of Terraria appears to be included in a standard disc case with several NPCs and Monsters on the front. It also includes Terraria's iconic logo, along with the respective logos of Headup Games, Merge Games, and ReLogic (the developers).
Pickaxe Key-Chain
The Terraria Collectors Keychain is often black, but can be different colors. The keychain has the Terraria logo printed on it.
Poster
The poster, with a resolution that is not yet known, is of a standard Terrarian landscape. Both a lake and a lit cave are visible in the teaser image. The top has been blackened and adorned with the Terraria logo.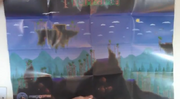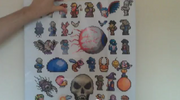 Trading Cards
Main Article: Category:Trading Cards

The posterior of each card is decorated with the Forest biome's background, as well as the Terraria logo.
Pet Bunny
The Carrot and Pet Bunny are available to all purchasers of the Collector's Edition. If you throw it out/put it in a chest then it will not appear in new worlds, If you put it in a chest and delete that world and reactivate the Bunny Pet you still will not get it back, this has been a bug for 2 years.