Home
Talk

137
2,954pages on
this wiki

Main Categories
Terraria 1.3 (Luner) and Holiday Update Coming Soon! - 12 December 2013
Terraria 1.3 will be coming out soon along with holiday treats. There will be a Santa Boss and fun temporary sprites.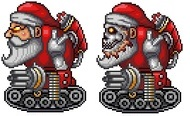 Random Spoilers:
Portal Gun still planned (Red has secured Valve permission)
Eggnog - restores 80 life
Reindeer Antler vanity
Xmas slime variants (ribbons, like gifts)
Frost Legion returns - this time with an additional member!
The reasons for extra large worlds being absent will be clear after 1.3 (or 1.4)

For more details see here.
Terraria 2 Officially Announced! - 3 October 2013
The reason for developing a sequel, as opposed to continuing to update the original Terraria, comes down to freedom. "There's a lot of stuff I'm locked into with Terraria," he explained. "The way loot works, the way character progression works. In Terraria 2, I really want to have infinite worlds so you're not just stuck to one world. You can travel anywhere. I want more biome diversity in that, too. There's a lot of stuff [I want to add and change]."
The announcement of Terraria 2 doesn't mean Terraria is now to be left as-is. While an update on par with 1.2 is unlikely to be seen again, Spinks said he is thinking about a Halloween update and "finishing the endgame progression" in the next few months. He has looked into the possibility of "hiring another small team to continue updates while I move onto Terraria 2" and considers that a potential option, which should be encouraging to Terraria fans who are hoping to see the game continue to evolve.
More info can be found here!
Release Date for v1.2 Officially Announced! - 11 September 2013
The news we've all been waiting for – the release date for v1.2 has been officially announced for October 1, 2013!
Update - 15 September 2013: The trailer for the 1.2 update has been posted! Give it a watch below: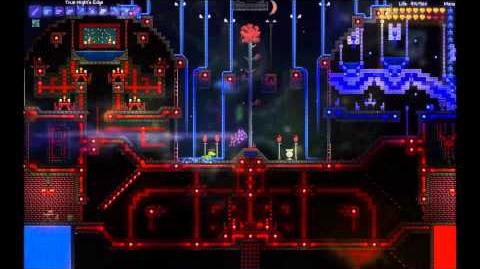 Terraria has been released on iOS! - 30 August 2013
Following a surprise announcement by 505 Games on August 28, the iOS version of Terraria was released yesterday, August 29! It is currently available on the iOS App Store.
Listed features of this version include:
Redesigned Controls & Game Balance – The controls have been completely redesigned for the Multi-Touch environment on iPhone, iPad and iPod touch and every aspect of the game has been tweaked and balanced to give players the perfect Terraria experience on the go.
Retina-Optimized – The game is fully optimized for the stunning Retina display on iPhone, iPad and iPod touch.

Join in the discussion of this new release at this blog post!
New v1.2 Preview! - 22 May 2013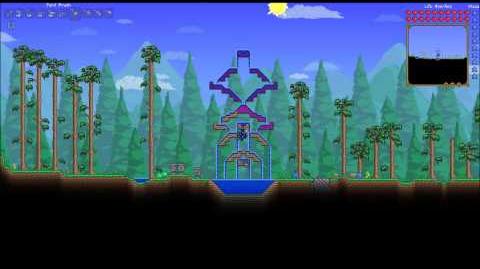 On May 22, Redigit posted this new video showing off several of the new features of the upcoming 1.2 update! Highlights from the video include:
A minimap!
Half-blocks are shown in action (including a waterfall effect from water next to half-blocks!)
Several new weapons and tools, including Terra Blade, Hammush (reference to a fan comic), and even a Rocket Launcher!
The ability to paint blocks using a Paintbrush!
Water in different colors!
More building materials (Rainbow Block)!
Terraria console versions released! - 28 March 2013
Great news leading up to this Easter weekend — Terraria is now available on PlayStation 3 and Xbox 360! With it comes new content exclusive to the console version, so please feel free to add pages for this new content to our wiki. If you have any questions, stop by the Help Desk or leave comments in the comment stream on pages. Have a great weekend everyone!
Tip: If you're new to Terraria, check out the starter guide and use the site navigation to explore the wiki further as you progress through the game.
Social
Join the Chat
Recent User Blog Posts
Alright so I got this picture of of a facebook page stating Hey guys,

Just an update on the progress of the upcoming Holiday update. I spent a good po…

Read more >
Affiliates
Gallery