Main Categories
Terraria 1.2 Update Release for Mobile Versions - Dec 3, 2014
The 1.2 update is now live for the Mobile edition of Terraria! Please note that due to the enormous size of this update, it will require device support iOS 7 and up. If you are using iOS 8, it is recommended that you update to the latest version, 8.1 or above.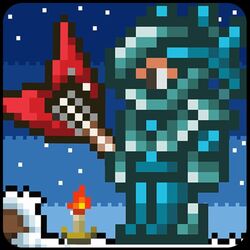 That said, there is many bugs with this update, so please report any and all bugs to 505 Games, here!
Some of the new things introduced in this update are:
Create a new world to experience brand new biomes & updates to old ones!
Over 1000 new items (including 30+ new block types)!
Over 100 new enemies!
4 new bosses, 15 new pets, and 8 more NPCs!
New events, new music, and new weather!
Many items now stack to 999!
Bigger chests!
Many other improvements!
More Spoilers for the 1.3 Update - Nov 25, 2014
In Cenx's latest post on the Terraria Community Forums, she shares a multitude of new spoilers all within a video!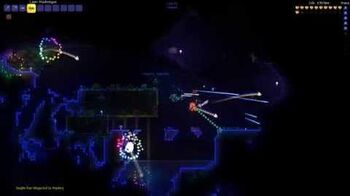 On top of this new spoiler, it has been announced that multiple suggestions from users on the Terraria Community Forums are going to be added into the game. Do note, though, the suggestions have been tweaked and some parts may be left out.
The following is a list of the suggestions that will make it into the game:
Terraria Next-Gen Console Release - Nov 14, 2014
As stated in one of 505 Games' posts on the Terraria Community Forums, Terraria for Next-Gen consoles is live!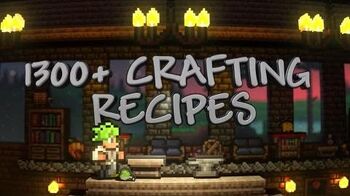 In recognition of the Terraria release for Xbox One and Playstation 4, 505 Games has developed a new trailer for the game!
If you find a bug and wish to report it, please report it here so 505 Games can address the problem quickly. Thanks!
1.3 Liquid Mechanics Changes - Oct 22, 2014
According to one of Cenx's posts on the Terraria Community Forums, a new liquid mechanic is being introduced to the game!
The water changes include smoother physics, a more realistic flow, and a non-blocky type of water!
For all the people who use the "water duping" bug, these changes will not take that away, nor will it adversely change or affect performance.
Spoilers for Update 1.3 - September 26, 2014
Hello Terrarians!
As the first part of an ongoing launch event for the new Terraria Community Forums, Cenx released a bunch of new information concerning the upcoming 1.3 update, including images!
NPCs
The image to the right is an example of some of the upcoming changes to NPCs, namely the introduction of new animations and interactions with placed furniture.
In addition to these new animations, the next update was stated to contain improved AI (eg. the Merchant will no longer stand in front of Chests and Piggy Banks) and visual makeovers for all NPCs.
Worldgen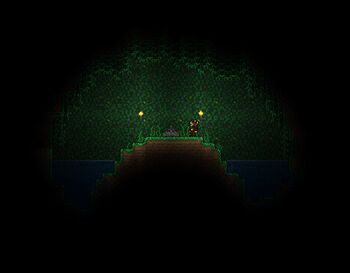 More subtly, some changes have been introduced to worldgen.
The changes called out in the thread include new "minibiomes" to discover and changes to make starting areas "cleaned up and smarter".
Other
In the second post of the spoiler thread, some final miscellaneous bits of information were released:
The Crimson is getting some attention in the upcoming update.
Stairs will be placed automatically when smart cursor is enabled.
See the gallery at the bottom of this page for the remainder of the images associated with these spoilers, or check the full thread
here
!
Gallery
Social
Join the Chat
The Terrarian Bugle
Create blog post
News
Hello Terrarians! Welcome to the forty-eighth issue of The Terrarian Bugle! Apologies for the delay in posting this issue, I had a very busy weekend.…

Read more >
See more >
Recent User Blog Posts
Create blog post
Blogs
Have you guys ever taken some bad advice and regretted from it? (Mainly terraria plz)

I was going against WOF using my HC character. I heard that wate…

Read more >
See more >
Affiliates
Non-Terraria Affiliates