Home
Talk

142
3,912pages on
this wiki

Main Categories
Spoilers for update 1.3 - September 26, 2014
Hello Terrarians!
As the first part of an ongoing launch event for the new Terraria Community Forums, Cenx released a bunch of new information concerning the upcoming 1.3 update, including images!
NPCs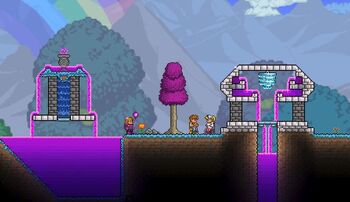 The image to the right is an example of some of the upcoming changes to NPCs, namely the introduction of new animations and interactions with placed furniture.
In addition to these new animations, the next update was stated to contain improved AI (eg. the Merchant will no longer stand in front of Chests and Piggy Banks) and visual makeovers for all NPCs.
Worldgen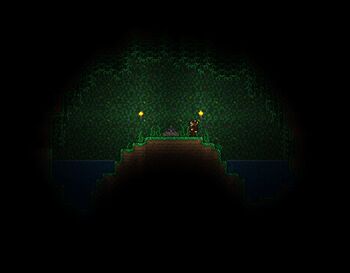 More subtly, some changes have been introduced to worldgen.
The changes called out in the thread include new "minibiomes" to discover and changes to make starting areas "cleaned up and smarter".
Other
In the second post of the spoiler thread, some final miscellaneous bits of information were released:
The Crimson is getting some attention in the upcoming update.
Stairs will be placed automatically when smart cursor is enabled.
See the gallery at the bottom of this page for the remainder of the images associated with these spoilers, or check the full thread here!
iOS Hardmode Release Date - August 12, 2014
According to a post made by 505Games, hard mode will be coming to Terraria iOS on Thursday, August 14!
This news was accompanied by the following images to the right, which can also be viewed in this thread on Terraria Online.
505Games also stated that they hope to have more news for the other platforms (presumably Terraria for Android devices) shortly.
Mobile and Console News - June 13, 2014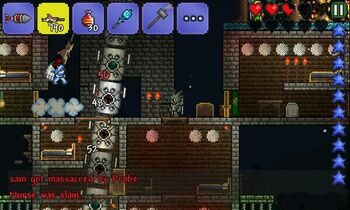 On Monday, it was announced that Hard Mode will be coming to mobile Terraria!
There is currently no concrete release date for this long-anticipated update, but 505 Games has said that this is something which they have been "working on behind the scenes for a long time now", so it probably won't be too far off!
The news post on Terraria Online was rounded out by the teaser image to the right, courtesy of 505 Games' Twitter.
---
Additionally, it was announced that Terraria will be coming to PlayStation 4 and Xbox One! Some of what is known about these versions thus far is shown below:
PS4 version will have cross-save and cross play functionality with PlayStation Vita
All 1.2 content will be included, along with "brand new functionality"
Release is currently slated for "later in 2014"
You can read more about this story on TO here.
v1.2.4.1 Working Changelog - May 13, 2014
With v1.2.4 released, the next major update we have to look forward to is likely the "Lunar Update", which will become the major focus for the Terraria team once 1.2.4 is "bug free and released".
In the meantime, Cenx tweeted a link to working changelog for v1.2.4.1! This document will be updated as changes are made to the game, so keep an eye on it!
You can read the full thread on Terraria Online here.
v1.2.4 Nearing Release - April 20, 2014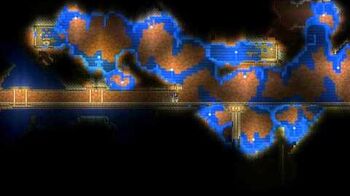 According to a post made by Redigit earlier today, PC v1.2.4 is in the final polishing and testing phase and should release within the next two weeks!
He accompanied this announcement with a video showing off a new addition in this update which has been teased at before, but never revealed: minecarts!
The post ended by talking a bit about the much-anticipated "Lunar Update", which is currently being worked on by Re-Logic's spriters. After the 1.2.4 update is released, Redigit, Solsund, and Yoraiz0r will work on the coding side of the update.
You can read the whole story at Terraria Online here.
Update: As of May 8, Terraria version 1.2.4 is now live! Pages for this update will be created over the next few days, so feel free to help out!
Gallery
Social
Join the Chat
Recent Announcement Blogs
Create blog post
Announcements
Hello all!

Depending on whether or not you are watching Special:RecentChanges, you may or may not have noticed that I created a new template called "P…

Read more >
See more >
Recent User Blog Posts
Create blog post
Blogs
Figure out any different combinations that could be used for cross-platform infoboxes. (This is meaning that a single infobox is present on the relev…

Read more >
See more >
Affiliates
Non-Terraria Affiliates