Home
Talk

138
3,435pages on
this wiki

Main Categories
v1.2.4 Nearing Release - April 20, 2014
According to a post made by Redigit earlier today, PC v1.2.4 is in the final polishing and testing phase and should release within the next two weeks!
He accompanied this announcement with a video showing off a new addition in this update which has been teased at before, but never revealed:
...minecarts!
The post ended by talking a bit about the much-anticipated "Lunar Update", which is currently being worked on by Re-Logic's spriters. After the 1.2.4 update is released, Redigit, Solsund, and Yoraiz0r will work on the coding side of the update.
You can read the whole story at Terraria Online here.
Console 1.2 Release Date - April 14, 2014
Good news Terrarians!
The long-anticipated port of the 1.2 update for PlayStation 3, Xbox 360, and PS Vita now has a confirmed release date of Thursday, April 17, 2014!
In case you missed it, this teaser for the update was released back in February: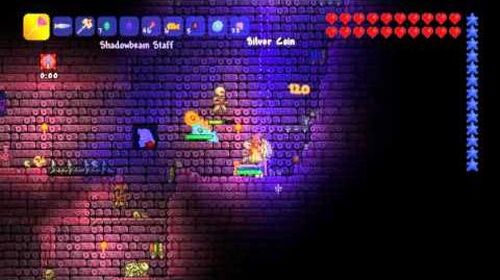 For further reading, you can see the official announcement on Terraria Online here and the changelog for this update here.
"Good evening Terrarians! 1.2.4 is officially underway and I would like to announce the first new mechanic that will be seen in this update; Fishing! Fishing will be used to get new vanity, random items/loot, ingredients for new alchemy potions, and some other fun goodies.
See this thread for more info.
Update 1.2.3 - February 13th, 2014
Update 1.2.3 is out! Please see the TOnline thread for more info. A page will be made soon on the wiki.
1.2.3 Spoilers - February 7th, 2014
Hey Terraria Wikians! If you didn't already know, Redigit released some more spoilers and said the update will be out in the next 2 weeks!
For the whole discussion, see the TOnline Thread.
Gallery
Social
Join the Chat
Recent Announcement Blogs
Create blog post
Announcements
Hello all!

Depending on whether or not you are watching Special:RecentChanges, you may or may not have noticed that I created a new template called "P…

Read more >
See more >
Recent User Blog Posts
Create blog post
Blogs
Super Smash Terraria is a new poll series I (and partially TerrariamcSwaggins) will be working on. It pits two items, mobs, bosses, WHATEVER from Ter…

Read more >
See more >
Affiliates
Non-Terraria Affiliates