Main Categories
Terraria 1.3 Trailer and Changelog! - June 28, 2015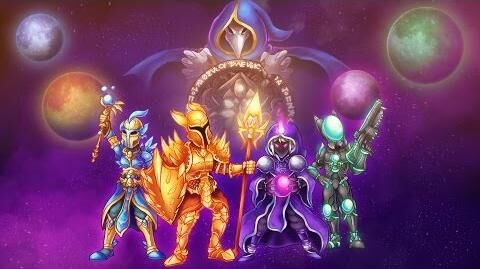 Earlier this month, the above trailer was posted on the Terraria Community Forums to tide us over until the release of the long-awaited 1.3 update on June 30!
Highlights of this video include:
Hundreds of new items, including a Portal Gun from Valve's Portal series!
New monsters!
New biomes and mini-biomes!
A new Skeleton Merchant NPC!
NPCs defending themselves against monsters!
At least one new event!
A higher difficulty mode which changes monster and boss AI!
...and much more!
Additionally, it was announced at the end of the TCF post that Mac and Linux support are planned and are supposed to be coming sometime next month.
---
But that isn't all! Yesterday, another post was made on the TCF which contained something arguably even more interesting: a changelog for 1.3. This post contains all sorts of details about the next update, including info on the workings of Expert Mode, revamped NPC mechanics, bugfixes, crafting tweaks, and more! If you don't mind the spoilers, it is well worth your time to check it out!
v1.3 Release Date Announced! - May 26, 2015
An interesting post on the Terraria Community Forums contained the following video:
At first glance, this video seems to be intended to show off a redesign for the Underworld. However, a much juicier detail came at the end of the video: Terraria 1.3 will be releasing on June 30, 2015!
Terraria 1.2 Update Release for Mobile Versions - Dec 3, 2014
The 1.2 update is now live for the Mobile edition of Terraria! Please note that due to the enormous size of this update, it will require device support iOS 7 and up. If you are using iOS 8, it is recommended that you update to the latest version, 8.1 or above.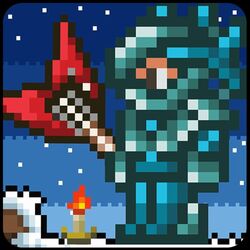 That said, there is many bugs with this update, so please report any and all bugs to 505 Games, here!
Some of the new things introduced in this update are:
Create a new world to experience brand new biomes & updates to old ones!
Over 1000 new items (including 30+ new block types)!
Over 100 new enemies!
4 new bosses, 15 new pets, and 8 more NPCs!
New events, new music, and new weather!
Many items now stack to 999!
Bigger chests!
Many other improvements!
More Spoilers for the 1.3 Update - Nov 25, 2014
In Cenx's latest post on the Terraria Community Forums, she shares a multitude of new spoilers all within a video!
On top of this new spoiler, it has been announced that multiple suggestions from users on the Terraria Community Forums are going to be added into the game. Do note, though, the suggestions have been tweaked and some parts may be left out.
The following is a list of the suggestions that will make it into the game:
Terraria Next-Gen Console Release - Nov 14, 2014
As stated in one of 505 Games' posts on the Terraria Community Forums, Terraria for Next-Gen consoles is live!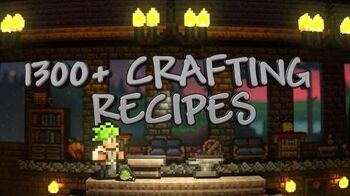 In recognition of the Terraria release for Xbox One and Playstation 4, 505 Games has developed a new trailer for the game!
If you find a bug and wish to report it, please report it here so 505 Games can address the problem quickly. Thanks!
Gallery
Social
Join the Chat
The Terrarian Bugle
Create blog post
News
Hello Terrarians! Welcome to the sixtieth issue of The Terrarian Bugle! I can't believe we have reached 60 issues, and I hope you have enjoyed readin…

Read more >
See more >
Recent User Blog Posts
Create blog post
Blogs
Yes while exploring the dungeon I found Muramasa so now the greatsword of fire is the only blade I need to make Night's Edge. Oh I used the Blade of …

Read more >
See more >
Affiliates
Non-Terraria Affiliates