Home
Talk

129
1,349pages on
this wiki

Main Categories
New v1.2 Preview! - 22 May 2013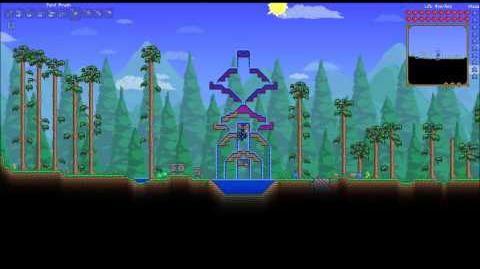 On May 22, Redigit posted this new video showing off several of the new features of the upcoming 1.2 update! Highlights from the video include:
Half-blocks are shown in action (including a waterfall effect from water next to half-blocks!)
Several new weapons and tools, including Terra Blade, Hammush (reference to a fan comic), and even a Rocket Launcher!
The ability to paint blocks using a Paintbrush!
Water in different colors!
More building materials (Rainbow Block)!
Terraria console versions released! - 28 March 2013
Great news leading up to this Easter weekend — Terraria is now available on PlayStation 3 and Xbox 360! With it comes new content exclusive to the console version, so please feel free to add pages for this new content to our wiki. If you have any questions, stop by the Help Desk or leave comments in the comment stream on pages. Have a great weekend everyone!
Tip: If you're new to Terraria, check out the starter guide and use the site navigation to explore the wiki further as you progress through the game.
Terraria Wiki Mobile App - August 6th
A new Android app has been released that gathers information from this wiki and displays it in your mobile device. This app is perfect as a quick reference while you are playing Terraria, no more switching or closing windows when you need to look something up! All of the info you will ever need is in the palm of your hand! Since this app uses realtime content you never have to wait for the app to be updated to add more content, if its on this wiki its on the app! For more information about this app be sure to check out this blog post!
The Reborn Mod has been released! - March 10th
Just minutes ago, the Reborn Mod Team has announced the initial release of the mod. Please see Category:Reborn Mod for a list of pages about the mod on our wiki. If you're going to be playing this mod and are interested in writing about the items/monsters/features on this wiki, please feel free to do so! For example, a page about capture the flag would be called Mod:Capture the Flag. This post will be updated.
Update - March 24th: Reborn Mod is now on version 1.3 beta, check out Hero's latest install video with the download link, instructions and changelog on YouTube.
Reborn Mod - March 5th
Thread detailing the mod:
Current Features:

3 new pre hardmode bosses
1 hardmode boss
1 New armor
New weapons (Including varied claws, scythes, Greatswords, Scimitars, and more!)
Capture the Flag
Additional updates
Hallowed Ore for new weapons, bricks and brick walls.
Accessories
Vanity items
Do you want to play this mod?
Social
Recent User Blog Posts
Hey guys, I have made a new forum for Terraria! I had to write it again since nobody will join my forum in Terraria Online.

I'll make the first one to…

Read more >
Affiliates




Gallery