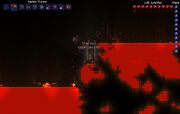 The Underworld (also known as hell) is the deepest biome in the game, reachable by digging past the stone layer. The Underworld can easily be differentiated from other biomes due to the background wall changing to a lava vein pattern. The Underworld contains partially destroyed buildings called Underworld Houses, which may contain Pots, Hellforges, and any kind of chest. The Underworld is the only biome where Hellstone, Ash Blocks, Hellforges, Fireblossoms, and Shadow Chests may be found. Healing potions found in Pots will only be Healing Potions rather than Lesser Healing Potions. Additionally, it contains stronger enemies.
The Underworld begins at around 3000-3200 feet on medium-sized worlds, it may start at around 2000-2500 feet if you're lucky/unlucky.
Monsters
Making a Hellevator is the quickest way to the Underworld.
Placing 50 Meteorite will stop underworld monsters from spawning, and replace them with Meteor Heads.
It's highly recommended for players to take an Obsidian Skull, Obsidian Shield, or Obsidian Horseshoe with them to the Underworld.
The very bottom of the Underworld has an invisible boundary like the far left, right and very top of the map.
Fireblossom, Daybloom, Waterleaf, and Blinkroot can apparently grow in The Underworld. It may be possible for Moonglow and Deathweed to grow as well.
It is basically necessary that players bring an Obsidian Skin Potion to avoid lava damage.
The Underworld is the only biome where Hellfire Arrows and Shadow Chests (a rare chest that contains rare items) may be found.
When you start traveling along the Underworld, leaving the area with the houses and closer to the edges, the spawn rate of monsters gets noticeably higher.
The amount of lava in the Underworld is finite, so it's theoretically possible to remove all the lava down there by turning it into Obsidian if you've got sufficient supply of water.
Any water left stagnant in pools will evaporate in the Underworld, although a glitch makes it possible to have pools, removing blocks around the water will cause it to evaporate.
It is possible to walk on lava by using a Water Walking Potion.
Heart Crystals are far easier to find in The Underworld than in other environments.
While in The Underworld it is highly recommended to have Rocket Boots, a Grappling Hook, or a Gravitation Potion to avoid the Lava.
It's possible to encounter Monsters from the Cave layer or from the Underground Jungle.
You can find it easier with a Depth Meter or GPS.
In the Console Version, Hellforges will spawn in the lowest areas of the Underground rather than in the Underworld itself.
Update Info
Edit
Water now evaporates once it reaches The Underworld.
New monsters added.
Increased spawn rate of monsters.