The
Throwing Knife
flies in a straight line until the blade starts flipping in midair, at which point it then falls to the ground, making it a very accurate short-ranged
Weapon
. This ranged weapon is a favorite for beginners. It is easy to find and has a higher pick-up rate than other ranged weapons.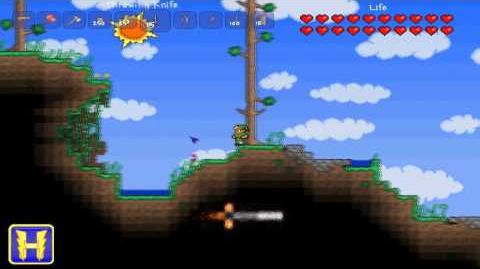 You can aim the Throwing Knife at an enemy that is straight above you, and if the enemy is close enough, the Throwing Knife will first pierce through, hitting once, and then hit again while it is falling to the ground.
Throwing Knives can be found as common chest loot and can be bought from the Merchant for 50 copper coins during a Blood Moon. Its upgraded form is the Poisoned Knife, which can be crafted using twenty throwing knives and one Vile Powder. This weapon is a highly effective way to defeat the Eye of Cthulhu .
Update Info
Edit