Tinkerer's Workshop
Comments

181
1,338pages on
this wiki
The
Tinkerer's Workshop
is sold by the
Goblin Tinkerer
. It allows the combining of some accessories, into new accessories, as well as being required to craft certain items. A combined
Accessory
 has the same properties as the items it is made up from, with minor adjustments on the
Mana Flower
 and the
Obsidian Horseshoe
.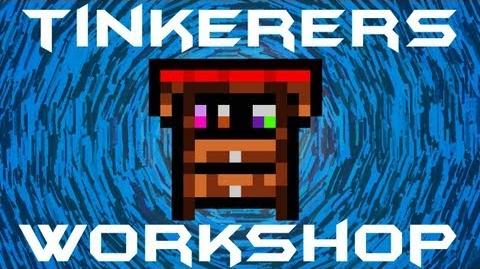 For example, the Cloud in a Balloon increases the players jump height and enables them to double jump, attributes of Shiny Red Balloon and Cloud in a Bottle respectively.
To combine items, you must unequip the Accessory/Accessories you wish to craft and must place the Tinkerer's Workshop in the world. You have to stand near it in order to use it, just like any other crafting station.
Combined Accessories can be reforged just like regular Accessories.
Combined Accessories will lose whatever Prefix they previously had, although they may gain a new one.
Crafting Combinations
Edit