v

398

Tinkerer's Workshop

   
Information
Type
Furniture
Sub-Type
Crafting Station
Placeable
Yes
Max Stack
99
Quality
Tooltip
Allows the combining of some accessories
Purchase From
Goblin Tinkerer
Purchase Value
10  
Sell Value
2  

Crafting
This item cannot be crafted.
The
Tinkerer's Workshop
is sold by the
Goblin Tinkerer
. It allows the combining of some
accessories
into new accessories, as well as being required to craft certain items. A combined accessory generally has the same properties as the items it is made up from.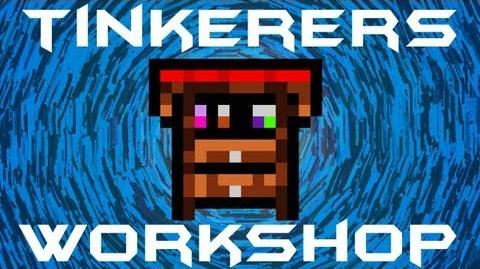 For example, the Cloud in a Balloon increases the players jump height and enables them to double jump, attributes of Shiny Red Balloon and Cloud in a Bottle respectively.
To combine items, a player must unequip the accessory/accessories you wish to craft, put them in your inventory, and stand next to the workshop, just like any other crafting station.
Notes
Combined Accessories can be reforged just like regular Accessories.
Combined Accessories will lose whatever Prefix they previously had, although they may gain a new one.
If some items are combined, like the emblems, they will lose some boost on each one but adding a new power.
Crafting Combinations
Item
Recipe
Effect
 + 

Grants the ability to swim

Greatly extends underwater breathing

 + 

Grants the ability to swim and greatly extends underwater breathing

Provides light in water

 + 

Grants the ability to swim and greatly extends underwater breathing

Provides light in water and extra mobility on ice

 /  +  + 
Shows position + Tells time in the upper left hand corner.
 + 
Negates fall damage + Grants immunity to fire blocks.
(Does not grant 1 defense, unlike the Obsidian Skull.)
 + 
+2 Defense + Grants immunity to knockback + Immunity to fire blocks.
 + 
Makes the user immune to Knockback, Fire blocks, Slow, Confusion, Darkness, Broken Armor, Weakness, Silence, Curse, Poison and Bleeding and adds 2 defense!
 + 
Allows the holder to double jump
 + 
Allows the user to double jump + increases jump height.
 + 
Allows the user to double jump + increases jump height.
 + 
Allows the user to double jump + increases jump height.
 + 
Allows the user to double jump + increases jump height.
 + 
Negates fall damage, increase jump height, allows the user to double jump.
 + 
Negates fall damage, increase jump height, allows the user to double jump.
 + 
Negates fall damage, increase jump height, allows the user to double jump.
 +  + 
Allows the player to Quadruple Jump and increases jump height.
/ +
Allows Flight + User can run super fast.
+ +
Allows Flight + User can run incredibly fast.
+
Allows flight

Super fast running and extra mobility on ice.

 + 
Provides the ability to walk on water and grants immunity to fire blocks
 + 
Provides the ability to walk on water, grants immunity to lava for 7 seconds, and immunity to fire blocks.
 + 
8% reduced mana usage + Automatically uses Mana Potions  when needed.
 + 
Increases melee knockback and 12% additional melee speed.
 + 
Increases melee knockback and 12% additional melee damage and speed
 + 
Increases melee knockback and inflicts fire damage on attack 9% increased melee damage and speed
+
Increases your max number of minions

Increases the damage and knockback of your minions

+ 
Increases maximum mana by 20

Increases mana regeneration rate

 + 
Restores mana when damaged and increases maximum mana by 20.
 + 
Restores mana when damaged and increase mana pickup range.
 + 
Provides life regeneration and reduces the cooldown of healing potions
+
Minor increase to damage, melee speed, critical strike chance, life regeneration, defense, pick speed, and minion knockback
 + 
Allows the user to turn into a werewolf during the night and a merefolk when going in the water.
 + 
Causes Stars to fall and increases invulnerability after damage is taken.

 + 

Releases bees and makes stars fall when damaged.
 + 
Releases bees and increases movement speed when damaged.
+
Releases bees and increases jump height.
 + 
Allows the user to climb walls.
 +  + 
Allows the ability to climb walls and dash, Gives a chance to dodge attacks.
 + 
Makes the user immune to Broken Armor and Weakness.
 + 
Makes the user immune to Poison and Bleeding.
 + 
Makes the user immune to Slow and Confusion.
 + 
Makes the user immune to Silence and Curse.
 +  + 
+
 + 
Makes the user immune to Slow, Confusion, Darkness, Broken Armor, Weakness, Silence, Curse, Poison and Bleeding.
Increases all types of damage by 12%
 + 
15% increased magic damaged and increase mana pickup range.
+
10% increased damage

8% increased critical strike chance

+
Increases view range for guns (right click to zoom out)

10% increased ranged damage and critical strike chance

 x6
Creates a triggered rolling Boulder  that can be used as a trap.

Equipable

Can be placed

Cell Phone
Magic Mirror + PDA
Update Info
Crafting Stations
 Adamantite Forge


 Titanium Forge

 Alchemy Station
 Bookcase
 Crimson Altar


 Demon Altar

 Furnace
 Hellforge
 Iron Anvil


 Lead Anvil

 Loom
 Mythril Anvil


 Orichalcum Anvil

 Sawmill
 Tinkerer's Workshop
Chair with Table
 Work Bench
 Imbuing Station
Single Purpose Crafting Stations
 Autohammer
 Blend-O-Matic
 Bone Welder
 Cooking Pot
 Flesh Cloning Vat
 Glass Kiln
 Heavy Work Bench
 Honey Dispenser
 Ice Machine
 Keg
 Lihzahrd Furnace
 Living Loom
 Meat Grinder
 Sky Mill
 Solidifier
 Steampunk Boiler