This item is found only in the mobile and console version(s) of Terraria.
v

 

Tizona

Information
Type
Weapon
Sub-Type
Broadsword
Damage?
56
Inflicts
Bleeding
Use Time
26 (Average)
Knockback
4 (Weak)
Continuous Attack
Yes
Quality
Tooltip
Has a chance to cause Bleeding
Sell Value
6  
The Tizona is an end-game console & mobile version sword. Being crafted with 1 Excalibur, 15 Adamantite Bars, and 15 Souls of Blight, this sword is quite costly.
It uses a broadsword-style attack pattern and is able to attack continuously (moonwalking included). A flaming particle effect is shown when the sword is swung, similar to that of the Meteor Armor. The sword has a chance to inflict the debuff "Bleeding" on the target.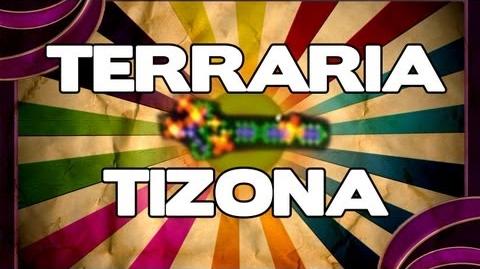 Trivia
Tizona is the name of the sword carried by Rodrigo Díaz de Vivar, El Cid, which was used to fight the Moors in Spain according to the Cantar de Mio Cid. The name Tizón translates to "burning stick", or "firebrand".
Before 1.2, the sprite was a green and purple recolor of the Excalibur.
Since no enemies regenerate health, the debuff this sword inflicts is only useful for PvP.
Update Info
New sprite
Cheaper Recipe.
Ad blocker interference detected!
Wikia is a free-to-use site that makes money from advertising. We have a modified experience for viewers using ad blockers

Wikia is not accessible if you've made further modifications. Remove the custom ad blocker rule(s) and the page will load as expected.