The
Torch
is the basic form of usable
light source
in Terraria. It can be placed on nearly any surface and can also be held in the player's hand for a portable light source. A regular Torch, unlike a
Cursed Torch
, will not produce light when submerged in
water
.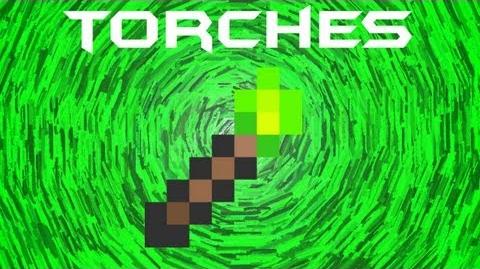 Torches stay lit and do not extinguish over time. This is valuable when exploring underground because it helps you to identify areas you have already explored. Torches can be picked up using a Hammer or by right clicking on them. Torches can be placed on trees.
They can be thrown to cast light into dark areas below the player by pressing the throw button. Normally, this would discard an entire item stack from the player's inventory, but when the player does this with Torches, only one is thrown. This works better with Glowsticks however, as they were specifically designed for throwing. If you have a torch in your inventory you may take it out at any time by pressing and holding the shift key (default), you may also place torches using this method, eliminating the need to keep torches in your hotbar.
You can also use different types of gems to color the lights the same way as Phaseblades. Also, torches can be upgraded to Cursed Torches by combining them with Cursed Flames: this allows the torches to emit a green light and be placed underwater.
Torches can also be switched on or off when wired to a
Timer
, a
Switch
, a
Lever
or a
Pressure Plate
.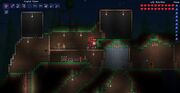 Update Info
Edit
Torches can now be toggled on and off using wire.