v

2624

Tsunami

Information
Type
Weapon
Sub-Type
Bow
Damage?
60
Use Time
23 (Fast)
Knockback
2 (Very Weak)
Quality
Tooltip
Shoots 5 arrows at a time
Dropped By
Duke Fishron
Drop Rate
20%
Sell Value
5  

Crafting
This item cannot be crafted.
The Tsunami is a bow that drops from Duke Fishron. When used, it will fire five arrows at once in a tight cluster, while only consuming one arrow. The cluster is tight enough for all of them to hit even a small enemy, potentially giving the Tsunami an effective base damage of 300.
A great way to do some huge area damage with this weapon is to use it in conjunction with Holy Arrows. The amount of stars it produces per shot should be able to kill many monsters in the immediate vicinity. As the Tsunami only consumes 1 arrow per shot, this is also an efficient use of Holy Arrows, as they are fairly difficult to craft.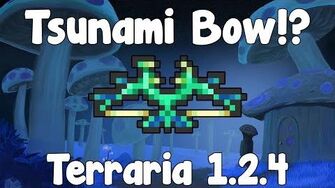 Notes
The Tsunami can fire through walls up to two blocks thick.
When used with Shroomite Armor, ranged-type damage-increasing buffs, and the right accessories, the Tsunami can mow through many monsters' health with ease.
Update Info
Gallery