Underground Corruption
Comments

64
3,392pages on
this wiki
(Please note that this is explaining the Underground Corruption AFTER you have beaten the Wall of Flesh. Until WoF is killed, the Underground Corruption will not spawn these enemies, and any enemies killed in the Underground Corruption will not drop a Soul of Night.)
The Underground Corruption is underneath the Corruption Biome. It is most recognizable by the purple or black background (similar to the Underground Hallow's pink background). It is, with the Underground Hallow, the only underground biome with its own theme. It starts with the normal underground theme, but then goes into the Corruption theme.
The mobs found in The Underground Corruption: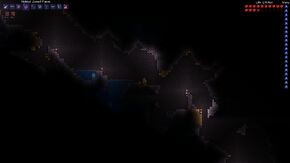 Other mobs may wander into the Underground Corruption such as Giant Bats, Giant Worms, Skeletons, Skeleton Archers and Armored Skeletons.
All mobs in the Underground Corruption (including mobs that have wandered in) have the chance to drop a Soul of Night, which is used to make many rare items including the Demon Wings.
Tips
The player may also create their own Underground Corruption by throwing Unholy Water at stone and sand blocks, turning them into Ebonstone and Ebonsand respectively. As the player spreads the corrupted blocks the violet background appears. (The same applies with the Underground Hallow using Holy Water which will show the pink background.)
Notes
A Corruptor will have a low chance to drop a Soul of Night.
You can easily farm Souls of Night by killing the Eater Of Worlds in the Underground Corruption. Also You Farm Souls of Night by placing more than 50 blocks of Meteorite, Then The Meteor Heads will spawn, then you can farm as many as you want.
Beginner players are not recommended to deal with The Corruption.
In Hard Mode, it's recommended that players have higher-tier armor, such as Mythril Armor or Higher, before advancing to the Underground Corruption. It is similar to the Underground Hallow in being two of the hardest biomes in the game.

PRE HARD MODE NOTES
if you are pretty early in the game you may notice you cant mine the corruption stone if you beat a boss (Eye of Cthulu or king slime is recommended) a npc will move in called the Dyrad,buy some Purifacation Powder and return to the corruption and go underground you will find things such as Chests Demonite ore and pots.If you want to fight the eater of worlds then use the powder to mine to Purple spheres called Shadow orbs (YOU MUST BREAK THE ORBS WITH A HAMMER) once done these orbs will commonly drop Ball o' hurt,Muskets,or Vilethorns. smash 3 orbs to activate the fight.
Update Info