This article is about the hardmode weapon. For the standard weapon, see Trident.
v

683

Unholy Trident

   
Information
Type
Weapon
Sub-Type
Spell
Damage?
73

Velocity (?)

13
Mana Cost
25
Use Time
21 (Fast)
Knockback
6.5 (Strong)
Quality
Tooltip
Summons the Devil's trident
Dropped By
Red Devil
Drop Rate
3.33%
Sell Value
10  

Crafting
This item cannot be crafted.
The Unholy Trident is a Hard Mode weapon that fires large, piercing tridents at a high velocity. It functions similarly to the Demon Scythe, but with much higher damage and speed.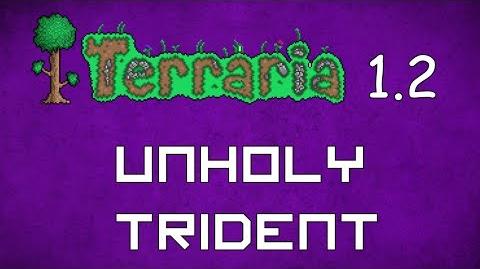 Notes
Although Red Devil's projectiles slowly accelerate, when used by a player they maintain a steady speed.
Update Info
Damage increased from 67 to 73.
Mana usage increased from 14 to 25.
Use Time shortened from 29 to 22.
Damage increased from 65 to 67.
Use Time shortened from 39 to 29.
Gallery