Upcoming Features
Comments

1k
1,338pages on
this wiki
A New Update
Despite the announcements of Terraria's development ceasing, (Part 1 Part 2) Redigit has announced an update for the PC version, that will be bigger than the 1.1 update, and should be coming around the end of May. Redigit also has been giving away spoilers on the Terraria IRC Channel (his Twitter is very active too) and has revealed such things as Moss that grows on stone, a new Grappling Hook, and more!
Collector's Edition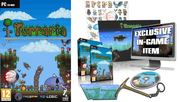 Main Article: Terraria Collector's Edition.
The Collector's Edition is available for preorder on both Amazon UK and Amazon Germany for 14 and 19 Euros respectively. The publishers are currently working on making the game available in the United States and other countries. The United Kingdom version will ship on March 16, 2012, and the German version is to ship on March 1.
The Collector's Edition is to contain:
Physical copy of Terraria
Pickaxe key-chain with the Terraria logo
Terraria poster
Terraria trading cards
Unique in-game pet bunny
Archive
The following information is being maintained as an archive. It is unlikely that any of the following features will be added to the game in an official update.
For Current features, check Version History. For Bug lists, check Bug List.
Possible Upcoming Features
Pure PvP servers with team based objectives. Worlds will be generated before every match. Imagine a CTF server where towers are automatically created on either side of the map. Players can fight it out on the surface, or try to tunnel into the other tower.
Adding sloped/inclined tiles to make the world smoother.
New harder world types to continue game progression (Ex: Alien planets, alternate dimensions, evil worlds, etc.)
Enemy factions that will move into your world, and build their own city. You can slaughter them while they are weak, or let them build up their strength to get better rewards.
More events: Volcanoes, earthquakes, more/improved invasions, etc..
Weather: Seasons, floods, etc..
Farming, and stamina system that gives a bonus to player stats.
NPC and World Interactives
Cleansing Pool (Makes Ebon Stone into Stone, and other evil items to non-evil, etc.)
NPCs w/ Quests
A Completely Overhauled Spell/Magic System

Early Magic Weapon and Mana from the Start
World and Gameplay Dynamics
More Floating Islands content: Weather, Clouds, etc. [8]
Separate cooldowns for edibles.
References