Hey, Thanks for viewing my page.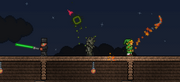 Ok i so haven't been playing Terraria long but already i have masterd a underground house iv enterded multiple uderground places, but all of this would not be possible without my good friend Adztheripper who found and got me intrested into playing Terraria.
Me (Ibki), Adztheripper and Dannythechief play most of the time and do host a server through Hamachi, If you would like to join and play along with us feel free, just ask ever me or adam on facebook or wiki.
Please join my Live chat i should be online Majority of the time.
My favorite pages
Edit