Hello Everyone, I'm RIZ and I love Terraria. I love to create structures and traps and figure things out. Please enjoy some pics and stories of my Terraria adventures.
Player Profiles
Edit

Name: Walter
Occupation: Explorer
Home Planet: Wally World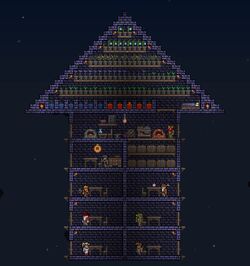 Interesting Discoveries
Edit
It is possible to drain an ocean into hell.
Good for collecting coral
Bad for fishing
It is possible to have a world "dissapear" from your world selection screen. The space the dissapeared world was in will still be there and occupied s oyou wont be able to delete it but since the name is gone you also will not be albe to select it.
If this happens it means there is an error with the save file and Terraria is unable to properly read the file.
To repair this issue delete the corresponding .wld file in the Documents\My Games\Terraria \Worlds directory.
The worlds are numbered [1-5] in the order you see them on your list. (worldX.wld)
It is also possible to backup and restore these save files
Documents\My Games\Terraria\Worlds\worldX.wld
Documents\My Games\Terraria\Players\playerX.plr