Ad blocker interference detected!
Wikia is a free-to-use site that makes money from advertising. We have a modified experience for viewers using ad blockers

Wikia is not accessible if you've made further modifications. Remove the custom ad blocker rule(s) and the page will load as expected.
Terraria-
So, I'm digging a hellivator, and I fall into a pool of water...and as I dig down through the bottom of it, the water doesn't fall like it should...I even tried jumping back into the water and swimming around
. Nope. The water still hung there...WTF?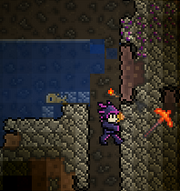 EDIT: It happened again! Still no idea why...
EDIT2: Liquids aren't moving at all...