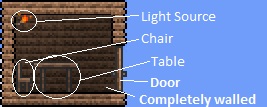 ok so whe you first start terraria you will spawn somwhere in the middle of the world and have wooden weopns to get you started the guide will spawn near you at the beginning if you want him around build a house and i has to be 6 blocks high and 7 blocks wide and have a full wall in the back and a bed is not nessisary for the npc but you will need a table a chair and a light suource of any kind cheaply would be a torch and more expensivly the hell forge which is in the under world. thats my tip for the day so bye and remember lava is bad. after building your home should be to create a better pickaxe as you will be using it a LOT, go into the world and mine the next tier of pickaxe(you should start with copper so the next level is Iron). Iron ore is an almost tan block in the ground which when mined must be made into Iron bars(3 ores per bar) which can be then crafted into an iron anvil(made with 5 iron bars). Once constructed, you can make an iron pick with wood and iron bars(12 iron bars and 4 wood per pickaxe). this is all you need to know but feel ferr to comment and follow. follow these tips and learn how to survive terraria .im making this so people can freely post to other players about terraria like how to craft somethin and how to get started for new players to the game. made for terraria v 1.0.6.1
Ad blocker interference detected!
Wikia is a free-to-use site that makes money from advertising. We have a modified experience for viewers using ad blockers

Wikia is not accessible if you've made further modifications. Remove the custom ad blocker rule(s) and the page will load as expected.