Good day, and Hello my dear, not so long ago, I began to observe coding =), and the first sign was the game terrariums, watch the results moyh works =)
---
Monsters
With all the monsters easier than it looked, and another thing with the bosses =)
---

was the brainchild of my Chtulhu tron, and yet he was in the game! albeit with my help =)
It is more complicated than twins! and faster, and the reward for it is huge, for the three bosses at once =)
---
On weapons, while adding just such a gun:
Works fine, anime hellsing =)
---
The second day, while developing their little child =) added more complex monster and boss corrected, and the weapon itself is a test, a little more will get: D
---
The third day, add a few weapons, including ban-hammer =) then show them sprites, crafting, a boss fought a little, trying to do so, he could also call to his aid tron ​​probe, slightly changed his sprite, something he would not seem "rattle, Chupa Chups" changed his tail, like all works =)
Continue its work =) I added a new boss from their camp ideas, he became Omega Slime =)
He is the boss, not simple, but attacks in the style of kung-fu, shooting at you slugs, and then jumping to the sky, falling towards you, spewing fire slugs, very strong and long boss =) but when you kill him on this game will not end with him =) will come out from his body stranger =) What will add more battles, but with one condition, ultra drone likes to fight at night, so it does not win the day ;) omegu slime finish it at night =) still the boss Cthulhu tron ​​learned to produce tron brobe =)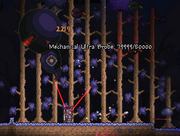 Of weapons, that picture =) added Armlet of Mordiggian, increases all abilities, but takes away some health falls with Cthulhu Tron, and Kraft have a demon altar.
---
The third day, the subject of renewed added, it now takes a part of your health by giving in-force changes, updated the boss who gets out of the omega slug after death, it now looks more like a stranger =) So as minor bug fixes. The mod is almost ready for release =) wait.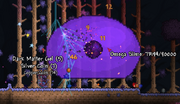 ---
Maude came to an end, thanks were next =) Of addition, added a new sword, "Sword of Fire", and in hell now have the police: D "In HardMod'e" they'll be very interfere in hell.
And some fixes were.
---
Added an alternate version of Herobrine =) "Adds a bit of horror" and the license Shinigami.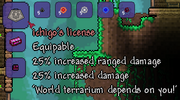 ---
Small fixes in the subject of "Armlet of Mordiggian", which could take you a lifetime and continue to go into negative life that is not very-good, removed this not justice, those who had to be subjected to this, sorry.
---
V1.5 Added a series of shark weapons, new monsters, and renewed the boss, Oblivion Shark falls from Oblivion, but you can create yourself. =)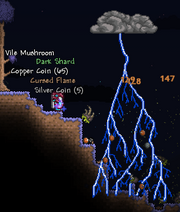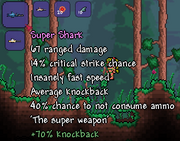 Ready to develop until there is nothing I will not, up to 1.2, but fixes, DevastoR lingered a monster = / well, and okay, it's his style. Added more weapons and monsters different.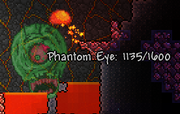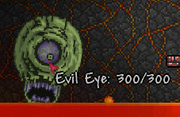 Already corrected the error, that's so fast =)
Plans == == successfully separated the components of their fashion from Avalon =) I will prepare for the adjustment modes, offer ideas for the development of fashion, fashion is a huge, I think it will be released after the terrarium 1.2, the monster of hell, the phantom will be repainted in a hell of a view.
Boss Kraken, a fairly complex super boss After the death of 3 produces a dragon, who are chasing the player.
First, nyan cat, not so bad, though, and goes to ram and shoots, but when you Overcome, it will be the embodiment of all the nyan cat with hands and guns, which will make the boss is very difficult, and because the code steal from skeletron'a, then morning nyan cat will kill you, and if you defeat this boss, you get a cookie from him: 3

From the new, added two pets, Nyan cat and Tac Nayn, fall out of the boss's Nyan cat: 3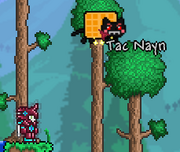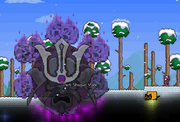 I continue to update the mod added turret - 3 types, they are tested, "the horses did not add them to prescribe" So as I wait on other offers, and your ideas. Added new boss, scary and flying, breathing fire =)
Slime with an umbrella Ridley boss Slug with an umbrella, turrets work fine =)
Added 5 mascots, the latter of which gives power, but takes a bit of protection may be replaced subject "Armlet of Mordiggian" Which is a reference to a single game.
While I will continue to add a lot of items and monsters, then check the operation.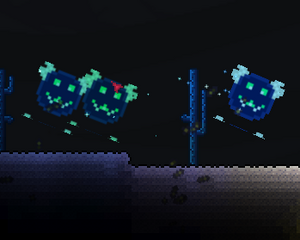 Added new boss:
Dark Shogun Mask And 3 talisman for protection, added the cross which adds to the ability of the player to a high level, and as a vampire, makes your skin white, and the object Armlet of Mordiggian - Fixed, for balance, which adds strength demon found a use for superhardmod ingots of they can create a super weapon, a hammer and a sword, is also added some kind of monsters, the widow of the jungle and the little fairies holy lands, which are able to multiply.
---
---
Thanks in advance =)
---
mod.
---
Plans: The plan was to create a global fashion authorship, but to make one long and boring))
---
Comment. "Harsh criticism is not welcome"